MERIWETHER COUNTY, Ga. – A mother of three from Georgia disappeared without a trace from a hiking trail more than two years ago. Now she's been confirmed dead, officials announced on Tuesday.
Olivia Samantha Fowler was 26-years-old when she was last seen at 10:30 a.m. August 13, 2021, on Pebblebrook Road in rural Meriwether County. The woman was wearing flip-flops, a tie-dye shirt and shorts. She was reported missing the following day by her family, according to 11 Alive.
Acting on a tip, human remains were discovered by law enforcement personnel late last year along a rural portion of Meriwether County. Now they've have been positively identified as Fowler's, authorities said.
"As was reported by the Meriwether County Sheriff's Office press release dated December 16, 2022, our investigators acting on a tip responded to a rural portion of Meriwether County, Ga. regarding information related to possible human remains. Once our personnel arrived in the area and began a search, they were able to locate human remains based on the tip provided. We were assisted by the GBI Crime Scene Unit in the recovery and the processing of the scene. The remains were then sent to the GBI Crime Lab. Our personnel who have been assisted by the FBI Columbus Resident Agency early on in a missing person case investigation worked in concert with us to expedite the identification of these remains. The FBI, Columbus Resident Agency obtained from the GBI Crime Lab a portion of the remains to submit to the FBI Crime Lab in Quantico, Virginia." Sheriff Chuck Smith said.
"On August 21, 2023, our personnel along with FBI Agents from the Columbus Resident Agency met with and notified the immediate family members of Olivia Samantha Fowler that the remains recovered in December 2022 were in fact Olivia as they were verified through DNA testing. Olivia Fowler was reported as a missing person to the Meriwether County Sheriff's Office on August 14, 2021. Our investigation revealed that the last known confirmed sighting of Olivia Fowler was on August 13, 2021, around 10:30 am on Pebblebrook Road. This missing person case has been investigated by us and other supporting agencies, especially the FBI, Columbus Resident Agency. They have been instrumental in assisting our personnel with their resources," according to Sheriff Smith.
"Although the outcome of the disappearance of Olivia Samantha Fowler is not what any of the family or law enforcement wanted this investigation remains active and on-going. Our focus now is to allow the family to grieve. The family request that they be allowed to properly grieve this recent news and to be supportive of them during this difficult time. The family would like the public to know that Olivia was not only a mother, but a daughter, a sister, a grandchild, and an important member of the Fowler family. This is a difficult time for them now and going forward. Please be respectful of their request," Sheriff Smith said.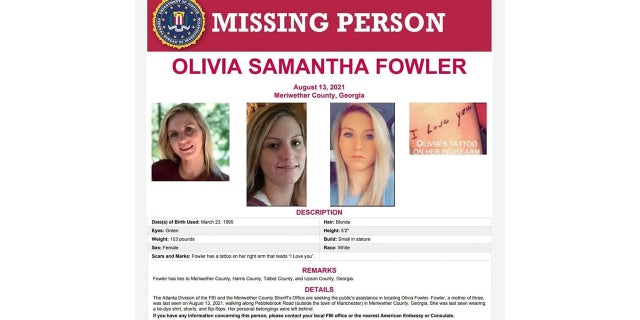 Fowler's aunt, Tamara McCoy, said her niece went missing after seeing a man she had been dating, Fox News reported.
"Olivia loves family – loves, loves, loves her family," the aunt previously said. "She's a great mother with the biggest heart."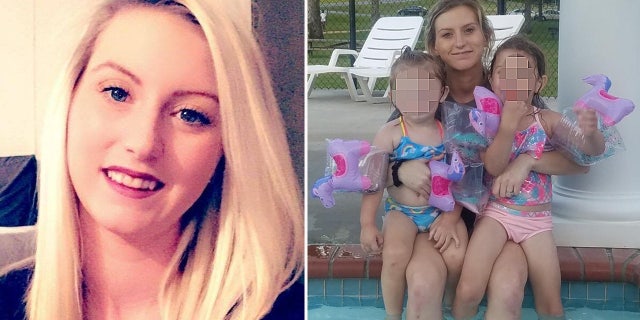 Officials did not disclose the cause or manner of death, if it is known.
"This case will now be classified from a missing person case to a death investigation. There is still much evidence to be analyzed and processed," Sheriff Smith noted.
Anyone with information is asked to contact the Meriwether County Sheriff's Office at 706-672-6651 or the FBI tip line at 770-216-3000.