CHESTER COUNTY, Pa. – Convicted murderer Danelo Cavalcante was captured alive in Pennsylvania after he escaped from Chester County Prison and eluded authorities for nearly two weeks. He was ultimately tracked down and apprehended by a police K9 early Wednesday morning, authorities confirmed.
The Brazilian national fugitive was captured after a "series of events started to unfold" within a perimeter that law enforcement officers established in Chester County, according to Pennsylvania State Police Lt. Col. George Bivens.
A swarm of police personnel responded to a residential burglary alarm that was activated, but Cavalcante, 34, was nowhere to be found, yet an aerial search "picked up a heat signal" that authorities were able to track, Bivens said, according to the Daily Beast.
About 1 a.m., tactical teams converged on the area in order to apprehend the killer, the news outlet reported.
#Exclusive Closer picture of Darnelo THEY GOT HIM! 🙏 #BREAKING #DaneloCavalcante #CAPTURED #Pennsylvania #Manhunt #Cavalcante #Pennsylvaniastatepolice #Danelo #Eagles #DaneloSouzaCavalcante pic.twitter.com/YYrjsfrAIx

— mishikasingh (@mishika_singh) September 13, 2023
"Cavalcante did not realize he was surrounded" at first but as soon as he did, he tried to escape again by crawling through thick underbrush with a rifle—until a police K9 was released to "subdue" him, Bivens said.
"He continued to resist but was forcibly taken into custody," Bivens said, adding that Cavalcante "did sustain a minor bite wound."
IN CUSTODY: Convicted killer in US illegally captured nearly 2 weeks after prison escape. https://t.co/kLhvbsPpfj pic.twitter.com/7RfwMCV7DC

— Fox News (@FoxNews) September 13, 2023
Cavalcante was recently convicted of murdering his ex-girlfriend in 2021 and given a life sentence. He escaped from the Chester County Prison August 31, and was spotted in East Nantmeal Township Monday evening, where the homeowner fired at someone matching his description, Action News reported. The perpetrator fled without leaving a blood trail.
Pennsylvania State Police urgently cautioned local residents that Cavalcante may be armed after he ran off with a .22-caliber rifle he grabbed from the home.
The convicted killer illegally entered the U.S. after a warrant was issued for his arrest for murder in his home country of Brazil in 2017, investigators confirmed.
On Wednesday morning, the fugitive was reportedly discovered hiding in a shed at a John Deere dealership in Pottstown, wielding the same rifle he'd stolen from a homeowner days earlier, sources told FOX 29 on Wednesday.
Up until that time, Cavalcante had consistently evaded capture, hiding out in the woods, pillaging area homes for food, and altering his appearance.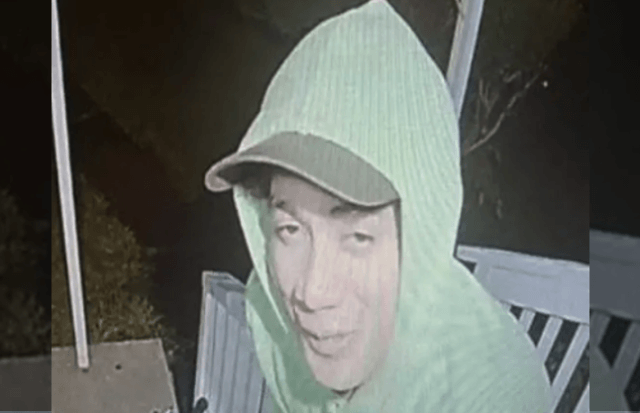 Terrified residents were finally able to relax as law enforcement officials released a reverse 911 call to locals, declaring: "The search for Danelo Cavalcante is over. The subject is now in custody."
"The capture of Cavalcante ends the nightmare of the past two weeks," the Chester County Commissioners said in a statement reacting to his arrest.
The inmate made his escape while awaiting transfer to a different prison to begin serving his life sentence for the murder. He used a "crab-walk" technique to ascend two walls, and then climbed over razor wire on top and jumped down from the roof before fleeing on foot, authorities said.
Still images from video footage show Cavalcante escaping from the prison yard in Pennsylvania. (

Chester County)
The razor wire was recently added by prison officials following a similar escape by another inmate in May, and said after Cavalcante's successful getaway they plan to consider additional measures, the Daily Beast reported. 
In August, Cavalcante was convicted of brutally stabbing his ex-girlfriend, Deborah Brandao, to death. Deborah's sister Silvia Brandao said the family was nervous during the two-week manhunt, reported GloboNews.
"His arrest is a huge relief. We were staying away from the news to try to stay calm, have some peace, because we have been distressed and getting sick," Brandao said. "My mother had gotten sick. We were afraid that he would retaliate against my family. We were afraid because you guys [the media] know what he's capable of."
Cavalcante was taken to state police's Avondale barracks for additional processing, lehighvalleylive.com reported.
Afterward, Cavalcante will be transported to a state correctional institute to carry out his previously imposed life sentence, Bivens said.
The Chester County District Attorney's Office will ultimately determine whether additional charges will be filed, he noted.