CARSON CITY, Nev. – A woman working at the Moonlite Bunny Ranch, a well-known legal brothel near Carson City in northern Nevada, was arrested early Tuesday morning after a shooting and armed standoff with law enforcement officers occurred overnight, 8 News Now reported.
Following the incident, the busted sex worker was identified as Savannah Henderson, 28, a former cover model of Hustler magazine who claims she's been "falsely accused." Henderson, also known as "Tiara Tae," posted bail Tuesday evening and quickly took to Twitter asking users to subscribe to her OnlyFans account to hear her side of the story, according to the New York Post.
The Lyon County Sheriff's Office received a call shortly after 9:30 p.m. on Monday regarding shots fired as a result of a dispute between two workers at the brothel, according to the agency. Responding deputies heard "several more gunshots" and determined one employee had fired a gun and then retreated into a room in the building, KTLA reported.
Sheriff Brad Pope said in a statement the business was evacuated and multiple law enforcement agencies and a SWAT team responded due to a barricaded suspect. Henderson reportedly locked herself in a room and crisis negotiation team members were called in for assistance.
Several hours passed before Henderson surrendered about 12:33 a.m., Sheriff Pope confirmed. No one was injured.
The sex worker was booked at the Lyon County Jail and charged with four counts of possession of a firearm by a convicted felon as well as one count each of possession of a controlled substance, discharging a firearm where others may be endangered and obstructing/resisting a peace officer. She was released Tuesday after posting bail in the amount of $86,140.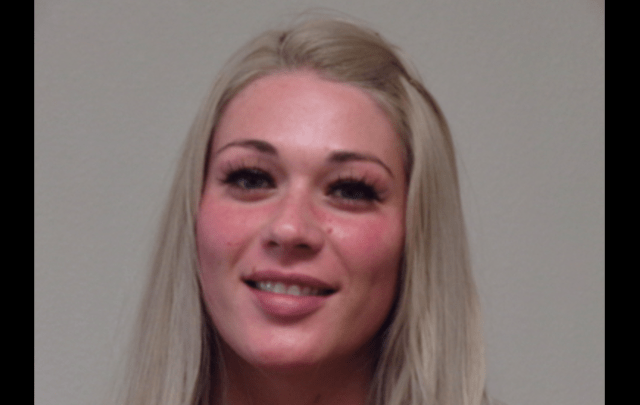 The Moonlight Bunny Ranch is in Mound House, Nevada, about six miles east of Carson City. It first opened in 1955 and was previously owned by Dennis Hof. The brothel was featured in the HBO series "Cathouse: The Series" which aired in 2005 and 2007, according to 8 News Now.
Henderson, a sex worker from Dayton, Nevada, appeared on the cover of the March 2019 issue of Hustler magazine, the New York Post reported. The woman, who is self-described as a "pleasure and orgasm specialist," later claimed she's been "falsely accused."
Henderson sent several messages out via Twitter Tuesday night, asking users to subscribe to her OnlyFans account to hear her side of the story with all the "juicy details."
"Spoiler surprise: falsely accused. Lawyer check. Charges dropped," Henderson tweeted shortly after 10 p.m. Tuesday. "y'all thought you got me lol stay tuned for my OF link with juicy details and info of court I'm free to walk and roam! Hope everyone is having a great week. I'm feeling relief."
"I'mma drop an OnlyFans. I'm gonna talk about most of the details on there, but if you wanna know what happened at Dennis Hof's world famous Moonlight Bunny Ranch, make sure and f—ing subscribe," Henderson said in a video she posted to social media.
Henderson seemed to exploit the attention her arrest garnered, writing "all eyes on me" next to the video.
"E-mails sky rocketing, people wanting bookings and meet ups.. maybe Dennis was right, all publicity is good publicity the word (sic) watching right now what I do next," she tweeted, referring to the late former owner of the brothel, Dennis Hof. "Stay tuned."
A woman who identified herself as a "retired Bunny Ranch employee" referred to Henderson as a "crazy bully barbie b–ch" and a "total f–king nutcase," according to The Post.
"[She] bullied other ladies for years. Attacked other," Alexa Haze tweeted. "I witnessed when i [sic] worked there."
"You wish B–ch Lmao you're gonna eat your words after you see this court info," Henderson retorted, while repeating the opportunity to advertise. "Make sure and subscribe to my OF for the juicy details!"