Black Lives Matter activists get exposed frequently due to their hypocrisy and distorted use of facts. Their emotional appeals often ignore reality.
While reading about the death of Tuscaloosa police Investigator Dornell Cousette last week, I was once again shocked—tongue-in-cheek—at the silence of BLM.
To date, there have been four black police officers murdered in 2019. Nevertheless, I haven't noticed a whimper of protest from BLM.
Ignoring selective black deaths at the hands of violent killers would be unthinkable if BLM aspirations were pure, but they are not. That is why they also ignore black homicide rates in Chicago, Baltimore, St. Louis and all inner cities in America.
Actually, for a black person to receive the backing of BLM, they need to engage in unlawful activity while failing to comply with lawful orders from a peace officer to comply or surrender—at least that has been the common denominator thus far. Then, and only then, are they deemed worthy to be used to "promote social justice."
Therefore, I'd like to take a play out of the City of San Francisco's playbook. They have renamed "convicted felon" to "justice involved person." So I propose a name change for BLM as the title of the activist organization is really incongruent with their goals. Consequently, I believe "Black Activists Demand Exceptions Based Upon Historical Injustices and Perceived Mistreatment" is more accurate. Yeah, it's a mouthful, but they sling so much crap I thought it was worthy.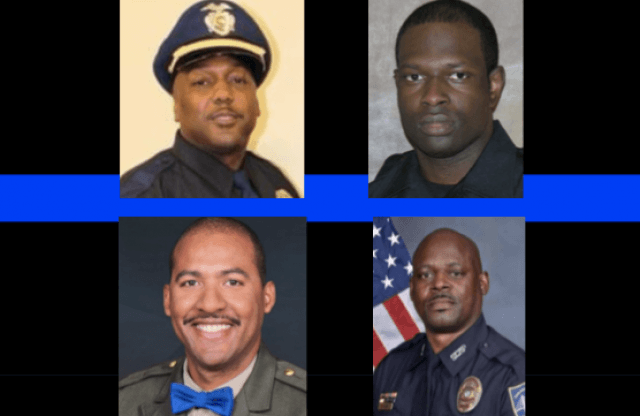 Now I would like to acknowledge and honor the black police officers murdered in 2019, and left on the side of the road by BLM.
———
Birmingham Police Department, AL
EOW: Sunday, January 13, 2019
Cause: Gunfire
Sergeant WyTasha Carter was shot and killed as he and another officer attempted to arrest two men who were breaking into vehicles at a bar in 900 block of Fifth Avenue North just before 2:00 am.
They were in the area on a special detail as the result of a recent rash of vehicle break-ins. A plainclothes officer spotted two subjects pulling on door handles of various cars and notified Sergeant Carter, who was in uniform and responded to the parking lot. The officer and Sergeant Carter stopped the two subjects and began to pat them down for weapons.
One of the men suddenly produced a handgun and shot officers, fatally wounding Sergeant Carter and critically wounding the plainclothes officers.
One of the subjects was wounded by return gunfire before both men were taken into custody.
Sergeant Carter was a U.S. Air Force veteran. He had served with the Birmingham Police Department for eight years and had previously served with the Shelby County Sheriff's Office, Leeds Police Department, and Fairfield Police Department for an additional nine years. He is survived by his wife and children.
———
Savannah Police Department, GA
EOW: Saturday, May 11, 2019
Cause: Gunfire
Sergeant Kelvin Ansari was shot and killed as he attempted to apprehend a robbery suspect.
He and other officers had responded to a robbery that occurred at a barbershop in the 2300 block of Bull Street. The suspect was believed to have left the area but was inside a nearby vehicle. As Sergeant Ansari checked the area the man exited and opened fire on him and another officer, striking them both.
The subject fled into a nearby residential area where he was found a short time later hiding in a shed. As responding officers ordered him to surrender, he exited the shed and opened fire again. He was fatally wounded by return gunfire.
Sergeant Ansari had retired from the U.S. Army and had served with the Savannah Police Department for 10 years. He is survived by his wife and four children.
———
Officer Andre Maurice Moye, Jr.
California Highway Patrol, CA
EOW: Monday, August 12, 2019
Cause: Gunfire
Officer Andre Moye was shot and killed after conducting a traffic stop near the junction of I-215 and Eastridge Avenue in Riverside.
As Officer Moye completed paperwork to impound the vehicle the driver retrieved a rifle from it and opened fire. Despite being mortally wounded, Officer Moye was able to radio for assistance. Officers from the California Highway Patrol, Riverside Police Department, and Riverside County Sheriff's Office responded to the scene and engaged the subject in a prolonged shootout. Two other officers were wounded and the subject was killed.
The subject who shot him was an active member of an outlaw motorcycle gang and had previously served 10 years in prison for attempted murder.
Officer Moye had served with the California Highway Patrol for 3 ½ years and was assigned to the Riverside Area Office. He is survived by his wife, mother, father, and siblings.
———
Tuscaloosa Police Department, AL
EOW: Monday, September 16, 2019
Cause: Gunfire
Investigator Dornell Cousette was shot and killed while attempting to serve a warrant at a home near the intersection of Short 17th Street and 33rd Avenue at 6:25 pm.
The subject was wanted for failing to appear on prior felony charges and had been located at his home by a bondsman. When Investigator Cousette arrived at the scene to assist the man ran inside the home. Investigator Cousette pursued him inside where the man opened fire. Investigator Cousette was struck in the face. Despite being mortally wounded he was able to return fire and wounded the subject.
Investigator Cousette was transported to a local hospital where he succumbed to his wounds. The subject was arrested after showing up at the hospital as a result of his gunshot wounds.
Investigator Cousette was a U.S. Army veteran and had served with the Tuscaloosa Police Department for 13 years. He is survived by his two daughters and fiancée.