A Dallas Police Officer has been killed and two others have been shot in the head and are in critical condition according to sources that spoke to Law Officer.
The incident occurred late Tuesday afternoon at a North Dallas Home Depot.  A loss prevention officer in the store captured a shoplifting suspect.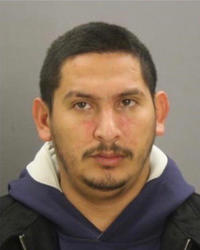 Two additional on duty officers responded to the scene and at one point the suspect pulled a gun and shot each officer in the head.
The shooting happened Tuesday afternoon at 4:30 p.m. near the store in the 11600 block of Forest Central Drive.
Officers are currently searching for the shooter. Law enforcement is circulating a photo of 29-year-old Armando Juarez (left). He's not a suspect at this time, but officers want to talk to about the shooting. The photo is a mugshot from January when he was arrested for unlawful use of a vehicle.