One of two teenage robbery suspects shot and wounded by an off-duty U.S. Customs and Border Protection officer — who authorities said was defending himself against attackers — died early Saturday at an area hospital.
The 15-year-old boy was pronounced dead at 5:34 a.m., the Sheriff's Information Bureau reported.
The teen who was killed was identified by family as 15-year-old Darius Smith. The boy's mother Reshawna Myricks said she cannot believe he'd be involved in a robbery.
She said the officer should have fired warning shots — instead of aiming at the boys.
"It's not right. And I want to know what happened because the story you said ain't the truth," Myricks said. "The crazy part is they let you walk on … my baby is not walking on no more."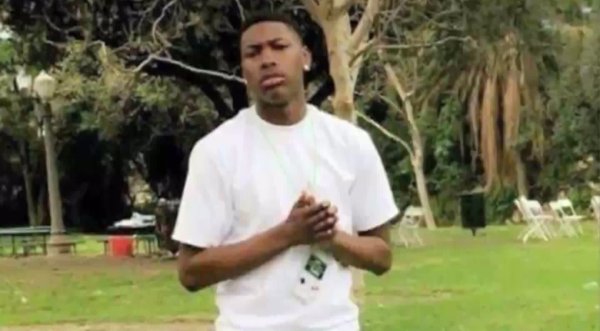 A 14-year-old boy who was also struck by gunfire remained at an area hospital with non-life threatening injuries.
A third teenage suspect, a 14-year-old boy, was in custody following the incident, which was reported at 8:13 p.m. Friday near First Avenue and Colorado Boulevard, according to Deputy Caroline Rodriguez of the Los Angeles County Sheriff's Department, which is investigating the shooting.
The officer suffered bruising to his face during the attack.  Authorities say that the officer was walking along the sidewalk on First Avenue, just south of Colorado Boulevard, when he was attacked from behind by the three teenage boys.
One of the suspects hit the officer in the head several times while another pointed a handgun at the officer and demanded his property.
The agent retrieved his department issued handgun and defended himself.
The suspect with the handgun, the 15-year-old boy, and another suspect, one of the 14-year-old boys, were struck by the gunfire while the third suspect ran away when the shooting started and was not hit.
The 15-year-old suspect's handgun was recovered at the scene.
Source: Off-Duty Customs Officer Shoots 2 Teens, 1 Fatally, After Attacked: Deputy | NBC Bay Area