NEW YORK – Former President Donald Trump was heavily flanked by Secret Service agents as he surrendered to authorities at the Manhattan District Attorney's Office Tuesday afternoon in a historic moment. Trump faces unprecedented criminal charges tied to the Stormy Daniels "hush money" payment, allegations that legal scholars with any modicum of fairness believe to be the weaponization of the criminal justice system.
"Trump, 76, defiantly raised his fist as he emerged from his Trump Tower residence in Midtown shortly after 1 p.m. before he was escorted downtown via a motorcade — en route to becoming the first ever US president to be criminally prosecuted," the New York Post reported.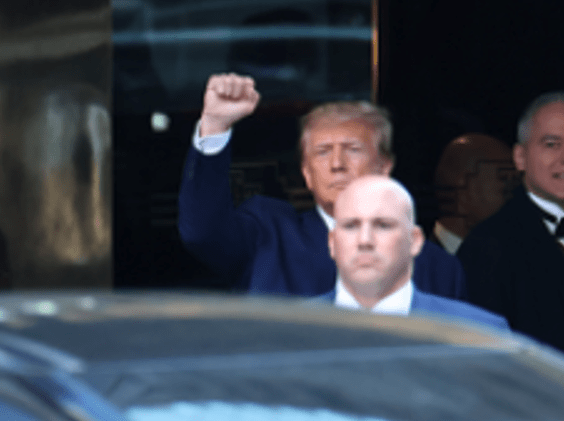 The 45th President of the United States posted comments on Truth Social just moments before surrendering.
"Heading to Lower Manhattan, the Courthouse. Seems so SURREAL — WOW, they are going to ARREST ME. Can't believe this is happening in America. MAGA!" Trump wrote.
Manhattan District Attorney Alvin Bragg seems to be fulfilling a campaign promise in trying to prosecute Trump. Despite his efforts to consistently downgrade and dismiss felony charges against career criminals, he now appears to be trying to make a dubious federal campaign allegation into a state charge.
Unlike most criminal defendants, Trump is being booked at the courthouse, not a police precinct. He will reportedly be fingerprinted, yet a booking photo is not expected to be taken.
Trump pleaded not guilty during arraignment.