Share and speak up for justice, law & order...
AUSTIN, Texas — A group in Austin is now petitioning to get a new initiative on the November ballot that could potentially force the city to hire hundreds of police officers. This comes after the Austin City Council last summer slashed $150 million from the Austin Police Department's budget, roughly 34 percent of the agency's $434 million total budget.
The group, Save Austin Now, announced Wednesday that the ordinance it's seeking to get on the ballot contains many facets that would facilitate public safety, KXAN reported. With crime spiking, citizens want to feel secure. A level of security has been "stolen" as officials have reduced police budgets and cut services.
"Homicides are on track to double last year's all-time record," Save Austin Now said in a statement. "Our current police staffing level is equal to 2008 when Austin was 45% as large as it is today. Attrition is harming readiness and response times. Police morale is at an all-time low."
After APD's budget was slashed last summer, the Texas Municipal Police Association (TMPA) put up a billboard along Interstate 35 entering Austin, which read, "Warning! Austin defunded police. Enter at your own risk!"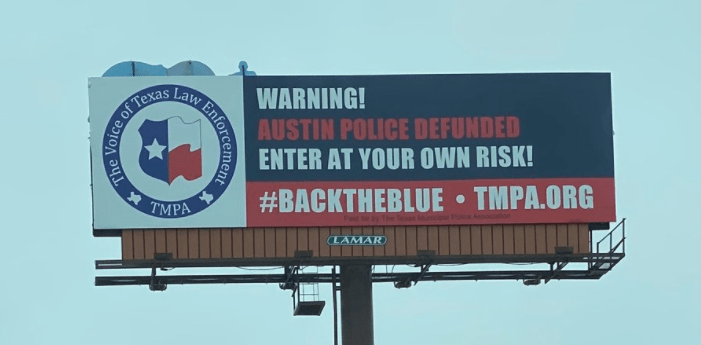 Austin has recently had trouble finding police candidates since the City Council has generally been viewed as having an adversarial relationship with its' protectors. A few weeks ago the city was woefully short of recruits for an upcoming police academy class scheduled to begin in June, Law Officer reported.
Perhaps the new law as well as a few new council members would help remedy some of the problems. According to KXAN, the proposed ordinance would do the following:
Increase Austin Police staffing to two officers per thousand people, potentially adding hundreds of brand new positions
Double the amount of yearly training that officers receive after they graduate from the cadet academy
Increase minority hiring and put more of a focus on community policing
Give retention bonuses to officers who have not received complaints
Save Austin Now will need at least 20,000 petition signatures to qualify the proposed ordinance for the November ballot.
Share and speak up for justice, law & order...