Share and speak up for justice, law & order...
BUTLER COUNTY, Ala. — A massive pile-up involving at least 15 vehicles on an Alabama highway has left at least 10 people dead, including nine children. The crash occurred on Interstate 65 near exit 130 in Greenville, about 2:30 p.m. on Saturday, WSFA reported.
Butler County Coroner Wayne Garlock said the vehicles likely hydroplaned on the wet road, which is the result of Tropical Depression Claudette that has brought torrential rain to the area.
A father and his 9-month-old daughter in one vehicle were killed, AL.com reported. Eight other kids riding in a Tallapoosa County Girls Ranch vehicle also perished in the tragedy. They were between ages 4 to 17, Garlock said.
Details of the crash have remained vague. The Alabama Law Enforcement Agency (ALEA) is asking the public for information and images of the crash. Anyone with photos or videos of the incident is asked to send them to [email protected] or share then on Twitter by tagging @aleaprotects.
Victims names have not yet been released.
#BREAKING: At least a dozen vehicles involved in major crash on Interstate 65 in Greenville, Alabama. Developing scene.

📸 Chris Horn with a drone photo pic.twitter.com/ef5SqcRyqn

— Colin Scroggins (@cnaw_colin) June 19, 2021
The National Transportation Safety Board said 10 investigators will arrive on the scene Sunday evening to examine "vehicle technologies such as forward collision warning systems, CMV fuel tank integrity, motor carrier operations and occupant survivability," Fox News reported.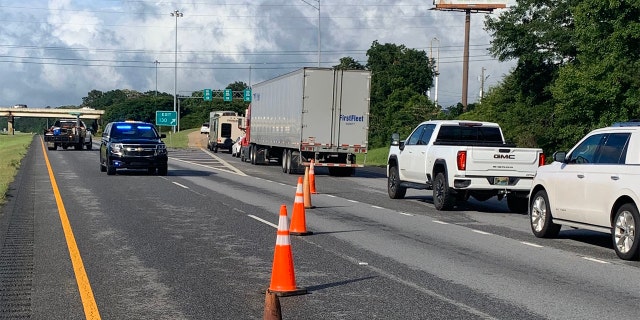 "Our hearts are heavy today. Our ranch has suffered great loss. As some of you may have heard, one of our ranch vehicles was involved a multiple car accident this afternoon," Tallapoosa County Girls Ranch wrote on its Facebook page Saturday. "Please send prayers our way as we navigate this difficult time. We will update information as we are able, and if you have any questions feel free to contact us. Thank you for your thoughts and prayers and respecting the privacy of our large and extended families."
TCGR is one of four youth ranches led by the Christian organization Alabama Sheriffs Youth Ranches. The organization provides housing for abused, neglected or homeless school-age girls.
According to the group's website, it's supported by the sheriffs of Lee, Chambers and Tallapoosa counties. Ranchers attend Reeltown School, where they are involved in various extracurricular activities.
Prayers for our Girls Ranch Family, our Reeltown Community, and all the lives touched by the tragedy on I-65 today. pic.twitter.com/fVEb0vaoS3

— Reeltown Rebels Football (@ReelRebelsFB) June 20, 2021
Alabama Sheriffs Youth Ranches CEO Michael Smith also offered his condolences in a statement early Sunday, Fox reported.
"It is such a horrible tragedy and loss. This morning, I have been thinking about how we do not always understand the reason things happen," Smith said in a statement shared on Facebook. "However, we will continue to hold on to our God for peace and comfort as our hearts continue to break. Please continue to pray for us as we navigate this difficult time."
Smith thanked those who "are respecting the privacy of our large and extended families." He shared the Bible verse from Matthew 5:4 that reads, "Blessed are those who mourn, for they will be comforted."
Share and speak up for justice, law & order...