WASHINGTON TOWNSHIP, N.J. — A New Jersey waitress was kidnapped, battered and then dumped after she chased a group of individuals engaged in a "dine-n-dash," according to authorities.
Police in New Jersey seek information on five individuals who engaged in the crime after a 20-year-old waitress tried to get them to pay their bill of $70, according to the Washington Township Police.
A waitress at the Nifty Fifty's diner tried to stop them about 11:15 p.m. on Saturday , but the group instead pulled her into a white Dodge Durango and drove away.
"They pulled her into the vehicle and assaulted her inside the vehicle," Washington Township Police Chief Patrick Gurcsik told WPVI. "The vehicle headed north on Route 42, made a U-turn and was heading south towards Monroe Township, and pushed her out of the vehicle."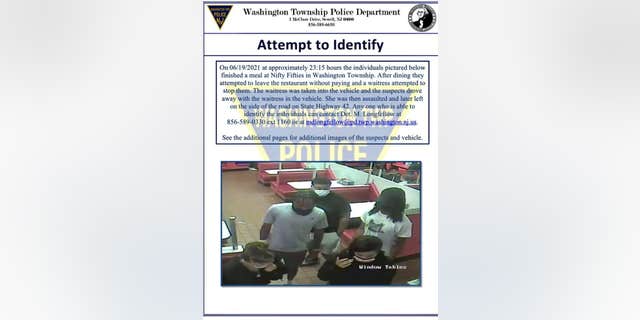 The unnamed waitress returned to the diner and called police. As a result of the crime, she suffered bruises and a possible concussion, Fox News reported.
Customers who heard the news Sunday night were disturbed by the incident.
"This is such a family restaurant; oh, this is crazy," said Stacie Garris-Oliver.
A restaurant employee, John Hill, said he's angered by the criminal activity, according to WPVI.
"Say it ain't so," Hill said. "As an employee, that makes me feel bad. And mad."
Police ask anyone who has information that may help in the investigation call 856-589-0330 ext. 1160 or email tips to [email protected].