HUNTINGTON BEACH, Calif. — A TikTok video announcing a birthday party was viewed more than 3 million times, which led to a mass of humanity descending upon the scene in Huntington Beach on Saturday. The police were forced to declare an unlawful assembly and arrested 149 partygoers for a variety of crimes.
The event dubbed "Adrian's kickback" in the viral video, caught the attention of local police who worked with agencies in neighboring cities to prepare for the mass gathering, KTLA reported.
"We are actively monitoring multiple social media posts advertising a large gathering on the beach this weekend. The safety & well-being of our residents, visitors, businesses & motorists is paramount, which is why the Huntington Beach Police Department is taking significant steps to prepare for the potential influx of visitors, including working closely with our regional public safety partners."
"Toward that end, the HBPD will also be strictly enforcing all applicable laws & ordinances throughout the weekend," the Huntington Beach Police Department tweeted on Friday, according to NBC News.
The crowd, initially estimated to be a few hundred people at the beach early in the evening, grew "rapidly," the Huntington Beach Police Department officials said in a press statement.
Eventually, police estimated than 2,500 people were gathered in the downtown area as chaos erupted.
"As the crowd size continued to grow rapidly, large groups disbursed into various locations throughout the area, throwing bottles, rocks, fireworks, and other items at officers," Huntington Beach police said.
Finally, law enforcement officials declared an unlawful assembly at 7:13 p.m. Social media posts from the location appeared to show officers deploying less lethal munitions to handle the rebel rousers.
Police units were seen with shattered windows and covered in graffiti.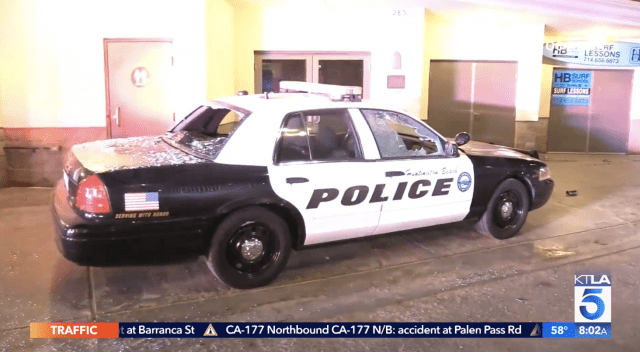 After the unlawful assembly was declared, a loud siren blared through the streets as officers worked to disperse the crowd, which grew increasingly out of control as people climbed on top of cars and on to a traffic signal pole, video showed, according to KTLA.
Other videos show cars in the street doing donuts, with one red car's tires appearing to smoke as a crowd filming on cell phones gathered around. Another video showed a white car doing donuts while passengers hung out the window. A third video also showed a white truck spinning its tires to kick up smoke before doing donuts in what appeared to be an intersection, NBC News reported.
HBPD put out a call for mutual aide from allied police agencies in the county. As a result, more than 150 officers "from virtually all agencies within Orange County" arrived to assist, the department said.
At 11:30 p.m., police announced an emergency curfew for a targeted geographical area, which remained in effect through 5:30 a.m. on Sunday.
During the pandemonium, officers arrested 121 adults and 28 juveniles, HBPD announced on Sunday. They were all booked on suspicion of various offenses, including vandalism, the firing of dangerous or illegal fireworks, failure to disperse and curfew violations.
Business owners in the downtown area were left with severely damaged property. Additionally, the city incurred damage to several police vehicles and a lifeguard tower in the aftermath of Saturday's gathering, KTLA reported. 
On Sunday, people were seen cleaning up the mess left behind. A local vendor, Kandie Gonzalez of Peace Sol & Succulents, said she found a lot of her inventory missing after the chaos, leaving her in tears.
"These kids that ran through, no remorse," Gonzalez said. "We've seen kids driving by, saying 'so funny.' It's not funny guys. It's not."