In my article titled, "Lies Leaders Tell," one of the issues I spoke about is the stance that cowardly leaders have taken on "no knock" warrants. Frankly, I had no desire to keep hammering at this nonsense but the current state of law enforcement leadership is so pitiful that I continue to hear about cowardly actions that must be addressed.
The latest state on the verge of banning "no knock" warrants is Minnesota but that hasn't stopped cities like Minneapolis from banning them along with 29 other cities.In a hearing to the state legislature last week, Mendota (MN) Heights Police Chief Kelly McCarthy told the legislators that "no knock" warrants should be banned because they are "dumb."
McCarthy isn't exactly an expert on the issue and considering that her city has around 11,000 residents and is one of the safest cities in the state without a murder in years, I find it hard to believe she was the chief to speak on this important issue.

Then again, this is Minnesota and the decision has all been made by the political hacks that run that state.  With that said, I want every citizen and police leader to know exactly what they are doing when this decision, based on emotions and lies, is made without any facts being provided.
The United States Supreme Court has long permitted the use of "no knock" warrants if the warrant can articulate that evidence may be destroyed or officer safety would be compromised. The execution of "no knock" warrants are rare and they should be but they remain constitutional for a good reason. Warrant services are generally dangerous, but some are extremely dangerous and in those cases, law enforcement needs every tool at their disposal to go home at night.
For decades, law enforcement had this tool at their disposal and it has never been without checks and balances. The approval must come from a judge and law enforcement policies typically dictate additional measures when they are served.
The death of Breonna Taylor changed all of that and that is when the media and politicians were further exposed as the liars they are. Rather than tell the truth about that tragic event, while articulating the safety aspects of "no knock" warrants, many leaders and thus agencies simply caved to the demands of those that know little about the profession.
Breonna Taylor was not sleeping peacefully in her bed when she died but she was standing next to her boyfriend who was firing his gun at law enforcement. Law enforcement hadn't even entered the apartment yet but I'm pretty sure that every officer in America would have done the same thing that Louisville Metro Officers did that night…shoot back.
Tragically, Taylor died and Louisville Metro Sergeant John Mattingly was shot and severely injured. The officers that night did not execute a "no knock" warrant and they announced their presence for close to a minute, well over any reasonable time typically given. The extra time given very likely gave the suspect the time he needed to grab his gun and be prepared for a gunfight and Sergeant Mattingly believes wholeheartedly that if a "no knock" warrant had been executed, the world would have never heard of Breonna Taylor.
But facts be damned…
The lack of executing a "no knock" search warrant is the reason they have to go.
While the death of Breonna Taylor along with the lies perpetrated after that event lit the flame to get rid of a historical law enforcement practice designed to mitigate the dangers to law enforcement personnel, the politicians in Minnesota have held up the death of Amir Locke to ban "no knock" warrants.
Amir Locke Incident
Locke's death is also tragic and like the Breonna Taylor incident, politicians and activists are using this tragedy combined with mistruths to further an agenda that will only place the citizens of Minnesota and law enforcement in a much more dangerous situation.
On February 2, 2022, members of the Minneapolis Police Department conducted a search warrant at an apartment looking for Mekhi Speed who was wanted for murder. As they entered, they yelled "police, search warrant" and encountered Locke on a couch sleeping fully submerged under a blanket. Police said "Hands! Hands! Hands!" and one officer yelled "Get on the fu**ing ground!" Locke wakes up and observes police around him but emerged from the blankets raising a handgun when he was shot.
Once again, the officer shooting Locke did what every cop in America is trained to do…shoot back.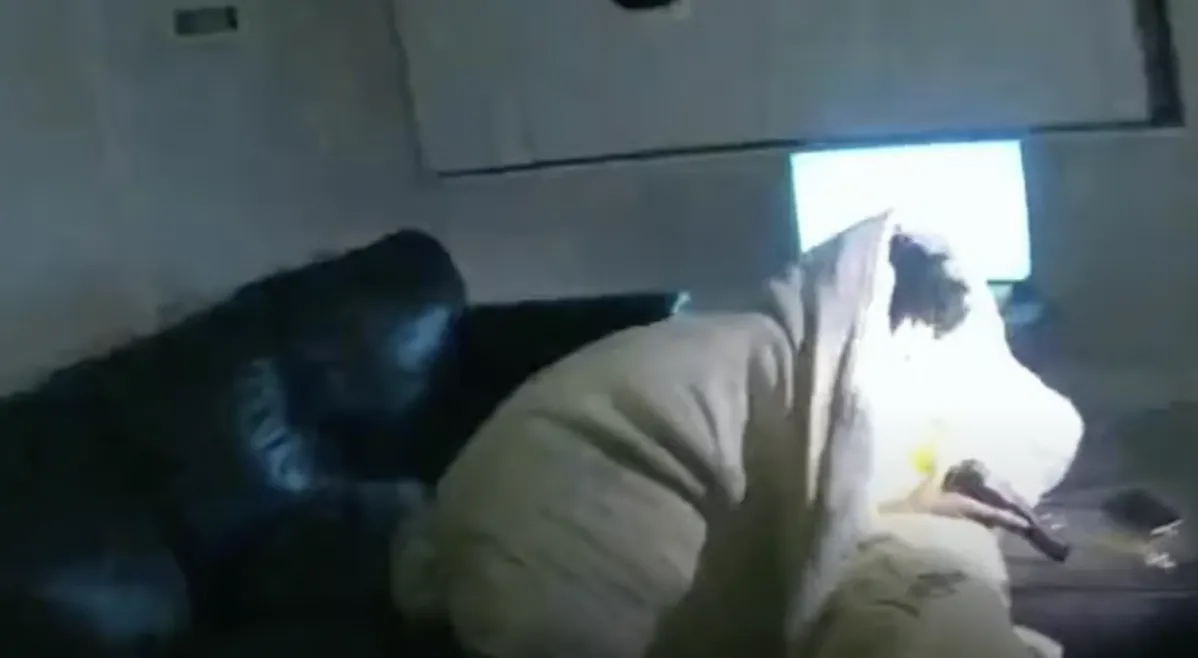 Speed wasn't located but police recovered a jacket and a bullet believed to be from the murder suspect. Police obtained the warrant after Otis Elder, 38, was shot to death while sitting in his car on January 10, 2022. Witnesses at the scene told police that they saw a male standing outside of the vehicle shooting into the vehicle. A silver Mercedes-Benz speed away and after reviewing surveillance video, police discovered two black males involved. The vehicle was tracked and ended up at the apartment complex where three black males emerged from the car and two appeared to be from the murder scene. Mekhi Speed was the only suspect identified and three warrants were approved for three different apartments that Speed had access to.
A Constitutional Practice
This very incident is exactly why "no knock" warrants are constitutional. Police built a case using witnesses and surveillance video to determine that a known murder suspect along with three other associates frequent three different apartments in the same complex. The suspect(s) had already proven that they will commit violence, and the presence of weapons was a real possibility.
The execution of those warrants are highly dangerous for law enforcement so they must be given the ability to use every tool at their disposal. In this case, it was the SWAT team and a "no knock" warrant signed by a judge. Due to the danger of the suspect(s), the Minneapolis Police Department demanded that the warrant be executed as a "no knock" prior to participating.
Once the politicians in Minnesota ban "no knock" warrants, they will still expect law enforcement to go after violent criminals, but they are clearly placing law enforcement in a much more dangerous situation.
It's unfortunate that Amir Locke was killed but the officers' actions were legal and justified. Minnesota Attorney General Keith Ellison and County Attorney Michael Freeman made that clear when they stated that the circumstances in the case "are such that an objectively reasonable officer in Officer Hanneman's position would have perceived an immediate threat of death or great bodily harm" and that "an objectively reasonable officer would not delay in using deadly force."
Courageous Police Leadership
I often say in my seminars that the job of a police leader is one of the most difficult and complex in the world. There may be no other leadership position on the planet that requires focus on the core mission (crime reduction) while simultaneously demanding that those not interested in that mission (politicians, activists, etc) are kept happy at the risk of losing your job.
It's an impossible task and exactly why crime is out of control in many parts of the country.
Regardless of the outcome in Minnesota, violent criminals will continue to do what violent criminals do.
Law enforcement will continue to be the only profession tasked with stopping and apprehending them.
Warrants will continue to be served and when suspects point guns or shoot at cops, they will shoot back.
The question that every leader must ask themself is will they continue to bow down to the whims and demands of those that don't care about that or will they commit to providing their officers with all of the tools and constitutional practices at law enforcement's disposal to give them the best chance for success and safety?
The question that every police officer placing themself in danger in the execution of warrants needs to ask themselves is that if their leaders fail them and prohibit the use of a "no knock" warrant when it is needed, will they conduct the warrant?
When that tool disappears, the answer should simply be no in the future.
Our leaders have failed far too often and if that trend continues, the slow decline of anyone wanting to do the job will continue to diminish and it will be cowardly leaders that deserve the blame.
Apply The Courageous Police Leadership Principles
It may seem redundant if you've been here for a while but this very issue and the obvious danger that is being transferred to law enforcement with the decision to ban "no knock" warrants is exactly why every leader should employ the Courageous Police Leadership Principles within every decision they make.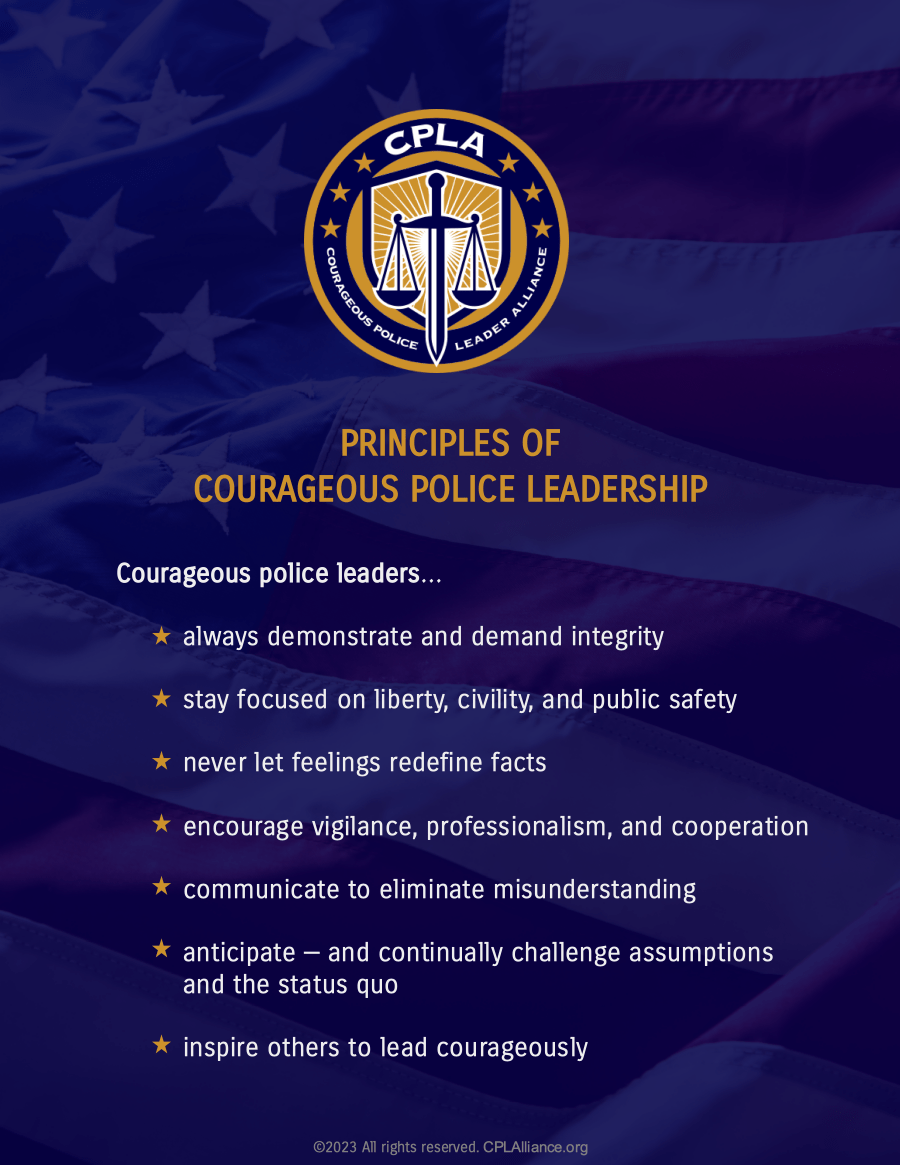 BANNING "NO KNOCK" WARRANTS
always demonstrate and demand integrity
There is no integrity in making a decision based on no facts or data that make the jobs of law enforcement more dangerous.
stay focused on liberty, civility, and public safety
The banning of "no knock" warrants does nothing for public safety other than make the jobs of officers and citizens more dangerous. If you doubt this, take a look at the violent crime rates in the cities that have banned them. Violence (and police shootings) are not on the decline after this constitutional practice was banned.
never let feelings redefine facts
The death of Breonna Taylor is a tragedy caused by her boyfriend who was shooting at law enforcement. Unfortunately, Amir Locke thought it was a good idea to sleep with a gun and point it at police as they were yelling "police." When one agency knocked at the door making announcements for close to one minute and the other continually made announcements as they entered the door, the banning of "no knock" warrants is being done based on emotion and not facts.
encourage vigilance, professionalism, and cooperation
Police will be less likely to go after violent criminals when effective tools are taken away from them. It is already happening and that is the sentiment I hear in every classroom across the country.
communicate to eliminate misunderstanding
In a profession that should be relying on facts and data to support best practices, that has all but been abandoned on the issue of "no knock" warrants. No one should be making decisions in law enforcement that will not suffer the consequences of those decisions and it's obvious that many of our leaders are simply caving in to emotion rather than communicating the need for this tool to the public that they serve.
anticipate — and continually challenge assumptions and the status quo
Law enforcement has been conducting "no knock" warrants for many years and when literally every police action started to get challenged a few years ago, we should have anticipated this demand and prepare for it. We failed to do that and are paying the price today.
inspire others to lead courageously
The only action that could inspire courageous leadership is being courageous.
Cowardice is the door that leads to chaos.
---
Dr. Travis Yates is a commander with a large municipal police department and author of "The Courageous Police Leader: A Survival Guide for Combating Cowards, Chaos & Lies." His risk management and leadership seminars have been taught to thousands of professionals across the world. He is a graduate of the FBI National Academy with a Doctorate Degree in Strategic Leadership and the CEO of the Courageous Police Leadership Alliance.