NEW YORK — A teenager who filmed the death of George Floyd has been given a Pulitzer Prize Special Citation by the Pulitzer Prize board. Darnella Frazier was awarded the citation for her courage, the Pulitzer committee said. Considered the most prestigious journalism award in the United States, the Pulitzer committee said that Frazier was honored for "courageously recording the murder of George Floyd, a video that spurred protests against police brutality around the world, highlighting the crucial role of citizens in journalists' quest for truth and justice."
While teenagers record an innumerable amount of cellphone videos every day, the BBC labeled the video a "film" and applauded it for spurring protests "for racial justice around the world."
Frazier, who testified in the trial of former Minneapolis police officer Derek Chauvin said that she recorded the incident on her phone because she "saw a man terrified, begging for his life." At the murder trial, she told the court that witnessing Floyd's death had changed her life.
While audibly crying, Frazier said, "When I look at George Floyd I look at my dad, I look at my brother, my cousins, my uncles – because they are all black… And I look at how that could have been one of them."
MSNBC's Joy Reid called Frazier's actions an example of the "finest traditions of journalism."
Harvard Constitutional Law Professor Laurence Tribe questioned the citation and said that Frazier should have been awarded a "full-blown Pulitzer."
A photograph taken from a Minneapolis PD police body camera shows Frazier (middle) recording her Pullitzer-winning work.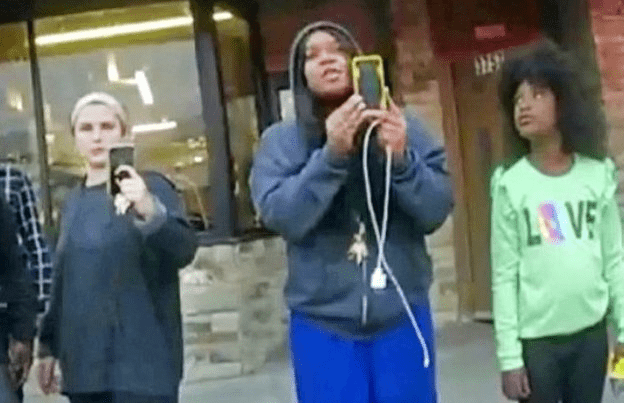 The Pullitzer Prize Special Citation did not make it immediately clear why Frazier's work stood out from other cellphone videos that were made during the incident.