By Steve Pomper
We've had many reports of officers being disciplined, fired, prosecuted, and even imprisoned—for doing their jobs—properly. No one's ever going to like how police use of force looks. Most normal people tend not to like violence, and that's a good thing. But sometimes, violence becomes necessary to stop criminal violence. When this happens, welcome to a cop's world.
Fortunately, I have some good news. The Hamilton County prosecutor in Wyoming, Ohio reviewed police body-worn camera footage of the fatal shooting of 28-year-old suspect Joe Frasure Jr. The prosecutor determined, correctly, she would file no criminal charges against the officers in the shooting death.
However, like peeling an onion, the layers reveal the true story. The family said, as reported by Buzz Feed News, the officers had nothing to fear from Frasure who'd simply been helping his sister clean out their deceased grandmother's house when the police suddenly showed up, shot, and killed him.
Several people on Twitter, obviously without a clue, reflexively condemned the cops for the shooting, some even for "killing another black man." I'll let you determine the suspect's race by referring to the nearby Twitter photo. I sure wouldn't want to assume his race. Who knows how he identified before the shooting?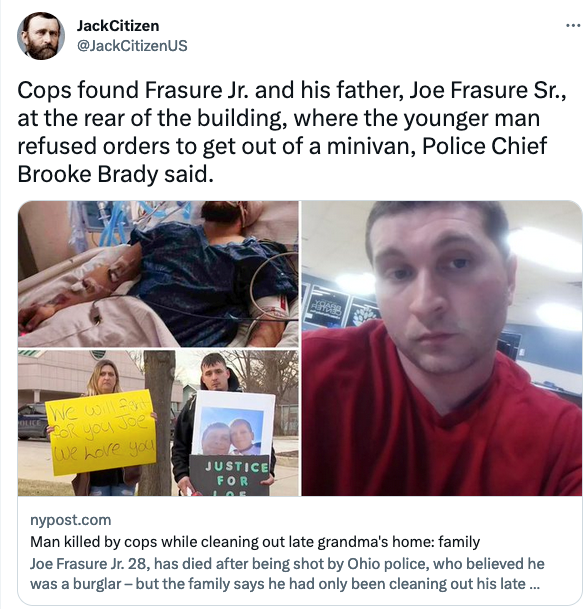 Maybe cleaning his grandmother's house was what he was supposed to be doing—before he tried to kill cops with a minivan. Police initially responded to a reported possible burglary, with the complainant telling 911 the apartment was "supposed to be vacant." Again, cops aren't psychic. Someone called them because they were suspicious of unusual activity at night at a small apartment building in their neighborhood.
The first thing that'll help you realize the police acted properly is, as they approached, Frasure was in the driver's seat of a minivan while his father was standing outside. Frasure's father complied immediately with police orders to raise his hands. He was not harmed. The younger Frasure chose another route: non-compliance and violence. He disobeyed police orders at gunpoint to stop driving the vehicle.
Instead, in the video you can see he backs up. Then as officers approach, Frasure drives the van toward officers in an apparent attempt to run them over while trying to escape. One officer can be seen running from the van as the suspect drives after him.
Officers fire four shots, and the suspect crashes into the side of a house. "Frasure Jr. was transported to the hospital in critical condition and died on Tuesday. Three of the officers were placed on administrative leave [which is standard procedure]."
More layers of onion peeled away. At a press conference prosecutor Melissa Powers revealed "that Frasure Jr. had an active warrant for violating his probation in Indiana for felony battery of a victim under the age of 14. He also had an active violation for absconding from parole in Kentucky for manufacturing methamphetamine."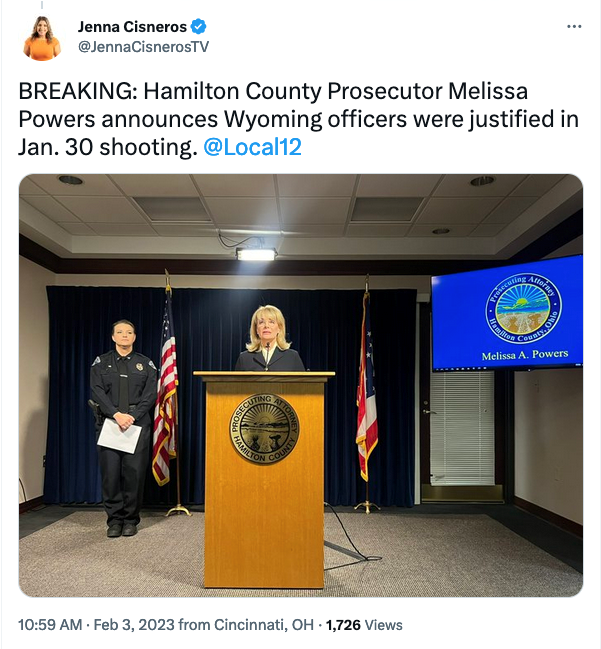 Frasure's sister said the police did not order the suspect to stop. Regardless, when cops stand in front of your car with their guns pointed at you, isn't it inferred? Besides, you can hear officers in the video repeatedly telling Frasure to stop.
The family claimed, "police shot him in the back of the head" … and "that [the vehicle] was not pointed at them." Still, the officer running with the vehicle directly behind him seems like pretty fair evidence it was "pointed" at the cops. As for the gunshot wound, "Powers said there was 'no evidence' that Frasure was shot in the back of the head."
Powers said, "This was a situation that easily could have been avoided. All they had to do is stop, comply, and explain, 'I'm here. This is my grandmother's apartment. We're here to help my sister,' whatever it may be. That behavior of Frasure Jr., he clearly was dangerous and put those officers' lives in danger."
Oh, and did I mention Frasure's father complied with police orders and was not shot or harmed in any way? Well, even if I didn't, it bears repeating—often.
In an NBC News video on YouTube during the press conference, Powers also said something far too lacking with Soros-funded prosecutors in the U.S. today. "These officers should be commended for their bravery. What happened that night is a testament to their strength and their training. There is no doubt that these officers reasonably feared for their lives, which is why they will not be charged."
I couldn't say it any better than she did, so I'm going to stop here and savor her words as a refreshing example of justice as it's supposed to work—even for cops—in the United States.
---
This article originally appeared at the National Police Association.