Share and speak up for justice, law & order...
SHEFFIELD LAKE, Ohio — An Ohio police chief is out of work after printing a note that read, "Ku Klux Klan" and placing it on the raincoat belonging to a black police officer, according to reports.
Surveillance video from the Sheffield Lake Police Department clearly shows the chief printing the offensive "KKK" message and placing it on the black officer's raincoat, Mayor Dennis Bring confirmed.
The mayor said he became aware of the incident, which occurred last week, by the police union. As a result, he placed Chief Anthony Campo on administrative leave pending a review of department video, Bring told WKYC.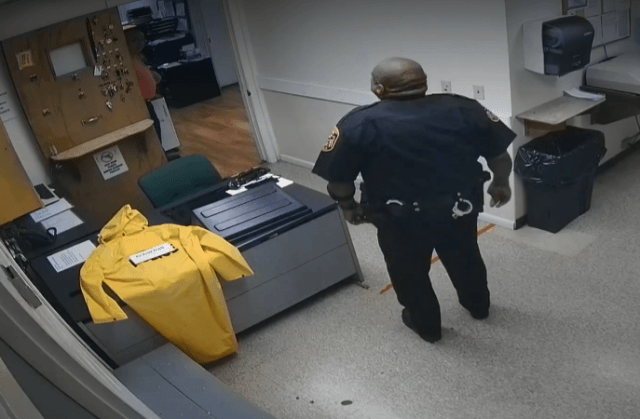 The administrative leave quickly turned into a termination—or forced retirement, depending upon how you view it.
"I asked him [chief] if he was psychologically okay and and he said, 'Absolutely,'" the mayor said. "He also made a cone out of a newspaper and put it on himself and he said 'You will have to wear this."
Campo apparently was trying to be funny, but the mayor wasn't buying it.
"I didn't even want to hear about it," Bring said, describing his conversation with Campo. "I said, 'You got 10 minutes to get out of your office. You already have admitted to it. I want your keys and badge. That's it. Get out.'"
Bring said he also met with the officer following the incident to apologize for Campo's actions, NBC News reported.
"It took us 10 minutes to even talk to each other because we were both so emotional," he said. "We talked about it and as we did, he told me more about it. I was flabbergasted. There's no one word to explain how disgusting this is."
The department security video showed Campo standing at the Xerox machine and then placing the printout on the officer's coat.
During a phone interview with WKYC, Campo said the incident was a joke that is being "overblown." He says he has great respect for the officer, whom he hired. Finally, he said he retired shortly after being placed on leave.
The name of the officer has not been released, and he's declining to speak to the press about the incident.
Campo spent three decades with the department and became chief eight years ago.
The city of Sheffield Lake is about 25 miles west of Cleveland,
Share and speak up for justice, law & order...