UPDATE: A standoff with a suspect in Hermann, Missouri, ended around 1:30 p.m. Monday after two officers were shot nearby the night before.
SWAT officers administered tear gas Monday and broke through the front window of the house after giving verbal commands. The suspect, identified as Kenneth Lee Simpson, then walked out of the home with his hands up and was taken into custody, KMOV 4 reported.
---
HERMANN, Mo. – A police sergeant in Missouri is dead, one other officer is injured, and law enforcement personnel are believed to be involved in a standoff with the man they say is responsible.
Detective Sgt. Mason Griffith and another officer with the Hermann Police Department were shot Sunday evening outside a general store in Hermann. Griffith was transported to an area hospital but did not survive, FOX 2 in St. Louis reported.
The shooting took place at Casey's on Market Street just before 9:20 p.m. The gunman was identified as 35-year-old Kenneth Lee Simpson, according to the Missouri State Highway Patrol.
Shortly after the shooting took place, the state issued a "Blue Alert" as police were looking for Simpson once they said he fled the scene, possibly in a black 2014 Jeep Wrangler with Missouri license plates RF5A0P.
Law enforcement authorities believe Simpson may be inside a residence in Hermann. As of Monday morning they have a home on East 11th and Market surrounded. It remains unclear if Simpson is inside.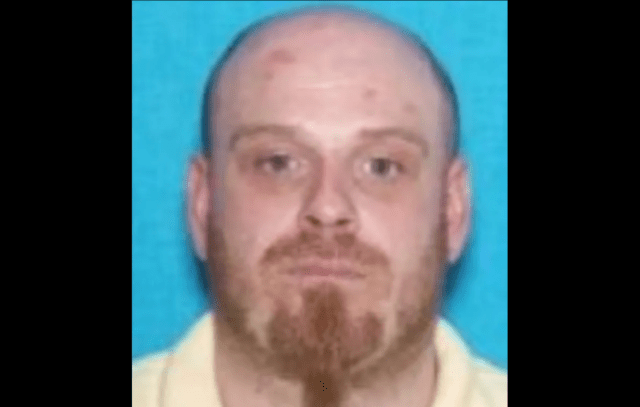 Broken glass and gunshots were heard coming from a second floor window. "Come out with your hands up and nothing will happen to you," could be heard over a bullhorn, FOX 2 reported.
The second officer shot has not been identified but was reported in serious but stable condition.
Simpson reportedly has a long criminal history, dating back to 2004 with several current pending cases. He has allegedly been on the run from authorities since April 2022, according to FOX News Digital.
The circumstances surrounding the shooting have not yet been released at of the time of publication.
Authorities said schools in the area will not be holding classes on Monday. "It is out of an abundance of caution and the desire to ensure the safety of our students and staff that we are closing campus for today," the Gasconade County R-1 School District announced.