After violence erupted in St. Louis, Missouri over the weekend, former Navy SEAL and Republican Governor of Missouri Eric Greitens made it clear the only "safe space" for these hostile individuals is a jail cell.
Violent protests began Friday after former police officer Jason Stockley was acquitted of first-degree murder and other criminal charges from a 2011 case.
Looters and vandals have destroyed store fronts, street signs, vehicles and even threw cement bricks and chemical agents at police officers.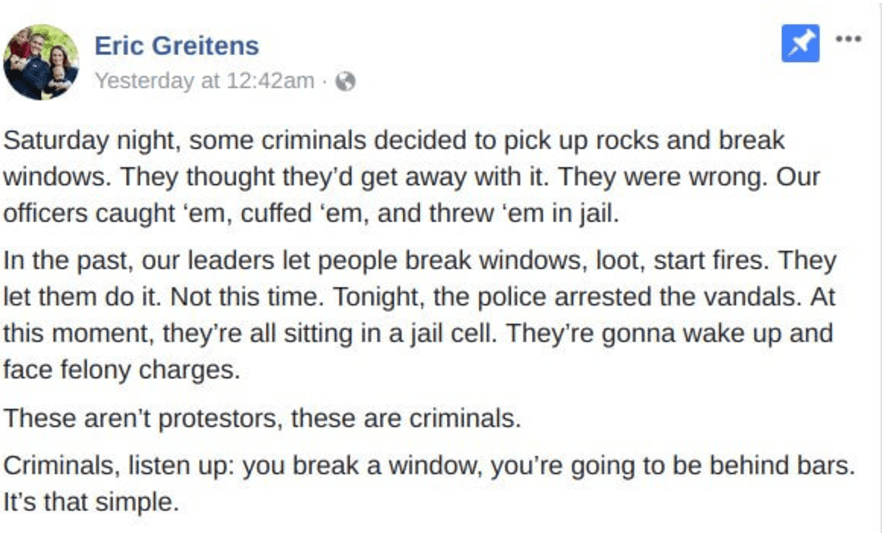 "Our officers caught 'em, cuffed 'em, and threw 'em in jail," Greitens said on his Facebook page early Sunday
As of this writing, police have arrested over 120 individuals, prompting the ACLU to complain that law enforcement is treating people too harshly.
Greitens, who activated the National Guard 24 hours before the verdict is not letting up.
"In the past, our leaders let people break windows, loot, start fires. They let them do it. Not this time," he said.
"Tonight, the police arrested the vandals," he continued. "At this moment, they're all sitting in a jail cell. They're gonna wake up and face felony charges."
On Monday, Governor Greitens continued with the below post.