A Northern California woman who was apparently abducted earlier this month during a late-morning jog was found Thanksgiving Day, when she was released by her captor on a rural road in Yolo County, authorities said.
Police said Sherri Papini, 34, who was bound in restraints, flagged down a passing motorist, who immediately alerted law enforcement.
[sc name="Article Mobile Ad" ]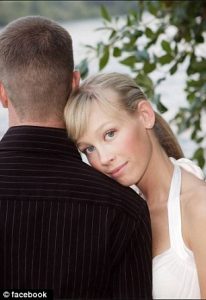 "We are ecstatic to report that Sherri Papini has been located and has been reunited with her family on this day of Thanksgiving," Shasta County Sheriff Tom Bosenko told reporters Thursday during a news conference.
Police are hunting for two Hispanic women armed with handguns and a dark SUV as Papini, a mother-of-two is returned to her family.
An anonymous donor, operating outside the family and without police help, had offered a $50,000 ransom to her captor for her safe return. The amount was upped to $100,000 and then withdrawn a day before she reappeared.
It is not clear whether any money was exchanged before her return.
It is not known if Papini knew her captors, was harmed by them or what their motives may have been.
The sheriff said that he did not yet know who the captor or captors were, what the motive was or where Papini had been held these three weeks.