MIDDLETOWN, R.I. — A Middletown police officer who was seriously injured in a motorcycle accident is in need of support.
James "Red" O'Neil has been at Rhode Island Hospital for the past nine days.
On the evening of Oct. 4, Portsmouth police said his motorcycle collided into the back of a pickup truck that was stopped and was turning off of East Main Road.
As a result, O'Neil, 33, was transported to the hospital with serious injuries, reported WJAR.
"I was woken up by the police," said Lt. David Bissonnette of the Middletown Police Department. "They were telling me one of my officers was in a motorcycle accident and they didn't think he was going to make it."
According to law enforcement officials, O'Neil has been a patrolman for about seven years.
He is a veteran of the Coast Guard and one of the founders of the Watch Keepers Law Enforcement Motorcycle Club. The group primarily consists of military veterans and current first responders.
"It's devastating, he's a phenomenal rider," said Jacob Silva, a detective with the Portsmouth Police Department. "James is just a very family orientated guy, and that's kind of why he made this club."
"Just goes to prove that this can happen to anyone," Bissonnette said. "And he was wearing a helmet and he still sustained these types of injuries."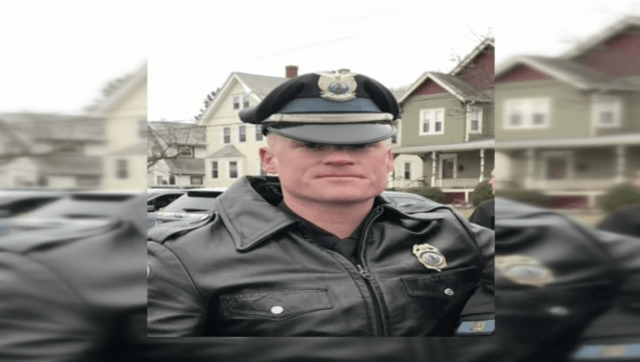 For nearly a week, the community and local police departments have been "Rallying For Red," who recently underwent surgery due to a serious brain injury.
"He is really confused right now," said Bissonnette. "Not one police officer but a lot of them are there everyday just to try to reach him basically."
"We're kind of asking for all the support we can get from local law enforcement and the community," he added.
A GoFundMe Page has been set up for O'Neil's medical expenses.
He's the sole caretaker of his family.
"It's hard to see something like this," said Silva. "He's our brother, no one ever wants something like this to happen. It'll be a long road ahead and we're here for him."
---
---
Moreover, the police union and the motorcycle club are hosting a spaghetti dinner at 4 p.m. on Nov. 3 at the Fraternal Order of Police Lodge located at 464 Mitchell's Lane in Middletown.
Tickets are $20 at the door. The public is invited to attend.
Money raised will go to O'Neil's recovery.
The Middletown Police Department is accepting silent auction and raffles items.