NEW YORK – One person is in custody after on-duty New York police officers were recently doused with buckets of water, a senior Police Department official told CNN on Tuesday.
The official said the man in custody is one of those seen in cell phone video of an incident that sparked outrage among law enforcement. However, charges are still pending, according to the official.
Videos of two different water-throwing incidents that occurred during the city's recent heat wave circulated widely on social media yesterday.
In one of the videos, officers in the Harlem section of Manhattan on Sunday are seen handcuffing a man on the hood of a sedan while about five other men circle the group.
The men toss water on the arresting officers from buckets. At one point, a shirtless man behind the officers winds up and throws an empty red bucket. After it bounces off the head of the officer closest to the camera, the crowd jeers.
NYPD police officers courageously face unknown & sometimes hostile circumstances each time they answer a call. Still, professional & composed, they carry out their vital work. As a city & a PD, we'll never accept such disrespect. https://t.co/HBBwajRmTJ

— Commissioner Shea (@NYPDShea) July 23, 2019
As a result, NYPD issued a release Tuesday evening saying the officer who was hit with the bucket "suffered pain and swelling to the back of his head."
Consequently, the police are asking for the public's help identifying three men wanted for questioning in connection to the Harlem incident, which occurred Sunday.
In a second video, two officers, already visibly wet, are seen walking away from a conversation with individuals who are obscured by a parked car in Brooklyn. Splashes of water follow them from off camera as laughter is heard in the background.
As they cross the street, a suspect runs up and pours an entire bucket of water on one officer. The two cops never break stride as they try to remain calm.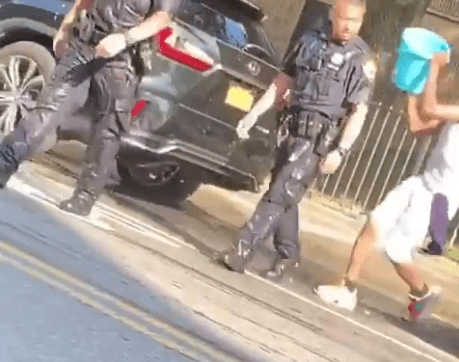 Behind the camera, a woman can be heard laughing and saying, "Oh [the police] came over to talk to them and they violated, they violated them."
"Look," she says later, "They're laughing at them!"
Speaking at an NYPD awards ceremony Tuesday morning, Chief of Department Terence Monahan addressed the altercations.
The officers in Harlem were responding to reports of a disorderly group when they saw someone they recognized with an outstanding warrant, Monahan told his fellow officers. As chief of department, Monahan supervises uniformed patrol commanders and is the NYPD's highest-ranking uniformed member.
"As they're making that arrest, there are a couple of guys who thought it was all right to throw water and a bucket at the cops," he said. "Well, that ain't all right."
Following the disrespectful water assault, the officers called for backup and the group scattered, Monahan said.
In the Brooklyn incident, the officers were walking away from a call when they were attacked with water, Monahan said. He then criticized the officer, who continued walking away after being doused.
"Any cop who thinks that that's all right, that they can walk away from something like that, maybe should reconsider whether or not this is the profession for them," he said to applause. "We don't take that."
A senior NYPD official told CNN the police involved in the videos "should have taken action and they'll be reprimanded for not doing so."
The New York PBA has consistently been critical of Mayor Bill de Blasio and his leadership, regardless of the empty words following this incident.
"The NYPD is now frozen," PBA President Patrick Lynch said in a statement. "Disorder controls the streets, and our elected leaders refuse to allow us to take them back."
"As police officers we need to draw a line," he continued. "In situations like this, we need to take action to protect ourselves and the public."