WASHINGTON, D.C. – A woman who was kidnapped Friday morning and stripped of her clothing before being driven around nude all day in a U-Haul truck, was rescued in Maryland when her captor crashed while trying to evade police, authorities said.
The suspect has been identified as 62-year-old Dennis Bell. He approached the victim at a convenience store on Minnesota Avenue Southeast in Washington, D.C. on Friday morning. He removed her clothing and forced the victim to sit on the passenger side floorboard in the cab of the truck as he drove around "all day," Maryland State Police said, according to Fox News.
"The victim told police that Bell pushed her into the U-Haul truck and threatened her life if she did not comply with his demands," State Police said in a news release. "The victim reported that while in Bell's truck, he removed her clothing and used a pocketknife to stab her fingers. The victim informed police that she did not know where she was throughout the day while Bell continued to drive."
Law enforcement authorities received multiple calls about 10 p.m. regarding a U-Haul truck driving erratically and striking multiple parked vehicles in Lanham, an unincorporated area in Prince George's County, Maryland.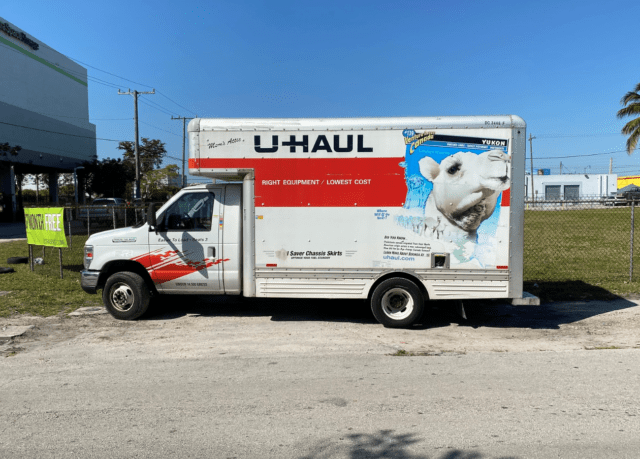 Police initially tried to stop the vehicle, but the driver refused to yield. While trying to evade law enforcement personnel, the suspect lost control of the truck and crashed into a ditch.
Two troopers approached the passenger side of the vehicle while demanding the driver exit, but he refused. As troopers accessed the truck through the passenger window, they discovered the naked victim with wounds on her fingers, sitting on the floorboard.
The driver, later identified as Bell, was taken into custody and the unnamed victim was transported to an area hospital for treatment.
Bell faces a slew of traffic and criminal charges, including first degree assault, kidnapping, false imprisonment, fourth degree sex offense, possession of suspected crack cocaine, and driving while impaired, Fox reported.
Bell was booked into jail and is currently being held at the Upper Marlboro Department of Corrections.