BALTIMORE, Md. — Hours after a Maryland man was released from jail, he was re-arrested for stealing a 5-ton military truck and leading police and deputies in a pursuit down an interstate Friday evening, according to reports.
Michael D. Stevens II was released from the Hartford County Detention Center in Maryland at around 6:35 p.m. Not long after, he reportedly stole a privately owned 1986 M-923 A1 military truck from a residence in the 900 block of Rock Spring Road in Bel Air, CBS News reported.
The owner of the truck tried to prevent the theft, but was unable. Fortunately, the victim disengaged from the military vehicle without being injured as the suspect drove away in the heavy duty cargo truck.
The Hartford County Sheriff's Office responded to the scene, and said in a news release, "Soon after, the vehicle was spotted entering the Town of Bel Air. The suspect continued, making his way down Rt. 24, before turning onto I-95."
"Multiple attempts to deploy stop sticks to disable the vehicle were attempted but failed. The truck continued into Baltimore City before coming to a stop on Conkling Street," the Sheriff's Office noted. "The driver exited the vehicle and attempted to run from the scene. Harford County Sheriff's Office Deputies were able to safely apprehend the suspect."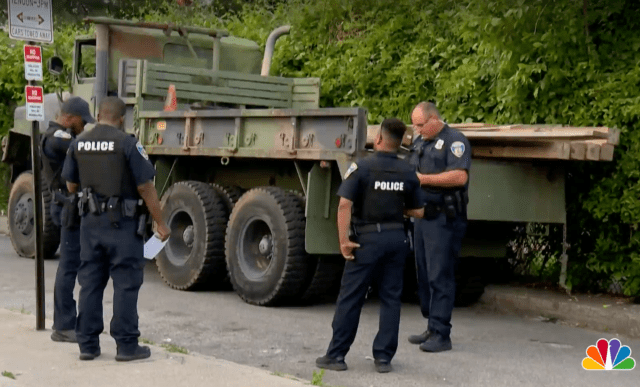 "The initial investigation indicates the suspect, identified as Michael D. Stevens II, 38, from Abingdon, had just been released from the Harford County Detention Center before stealing the vehicle," police said in a statement.
"Stevens was returned to the Detention Center at 9:20 p.m., where he faces charges of motor vehicle theft and two counts of 1st degree assault, two counts of 2nd degree assault, and failing to obey a lawful order," the statement added. "He is currently being held on no bond."
"Stevens crashed into multiple civilian vehicles," according to authorities, although no injuries were reported. However, police are asking people with damaged vehicles to come forward and file a report, according to Fox News. 
"The safe resolution of this incident is contributed to the many law enforcement agencies working together including, Baltimore County Police Department, Maryland State Police, Baltimore Police Department, and the Bel Air Police Department," HCSO said.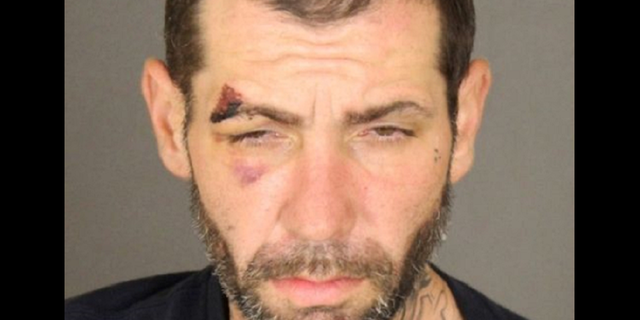 Stevens was in custody facing thefts charges before he was released, WHIO-TV reported. It was unclear what motivated the military vehicle theft and subsequent pursuit.