Tarik Johnson, a 22-year veteran of the U.S. Capitol Police, was a key witness to the events of Jan. 6, 2021 as he was tasked with securing the certification of the 2020 presidential election. Sadly, he was forced to resign and never called before the highly partisan Jan. 6 Select Committee to testify. Nevertheless, he has a unique perspective that he shared with Tucker Carlson during an interview that aired Tuesday evening.
"My voice is one of the first ones you hear on the audio transmission, so I did expect to get an interview sometime, but it didn't happen." Johnson told Carlson. "I guess the focus was on Donald Trump."
Johnson, whose role was to evacuate lawmakers safely, radioed for help seeking guidance from his superiors but did not hear back, not even from Capitol Police chief assistant Yogananda Pittman, who reportedly kept vital information about the protests from him. Despite the presence of intelligence, frontline officers were kept in the dark, Fox News Digital reported.
"We should have been better prepared that day, and we could have been better prepared that day if the information was disseminated like it was supposed to be," Johnson said.
When Johnson failed to hear from superiors, he took matters into his own hands, as seen in recently released footage by "Tucker Carlson Tonight."
However, his career came to a screeching halt after he was seen outside the Capitol wearing a Make America Great Again (MAGA) hat, which received national attention, yet was misconstrued.
Johnson, a Biden voter, said a Trump supporter placed the MAGA hat on his head. He decided to keep wearing it for self-preservation as he navigated through the pro-Trump crowd outside.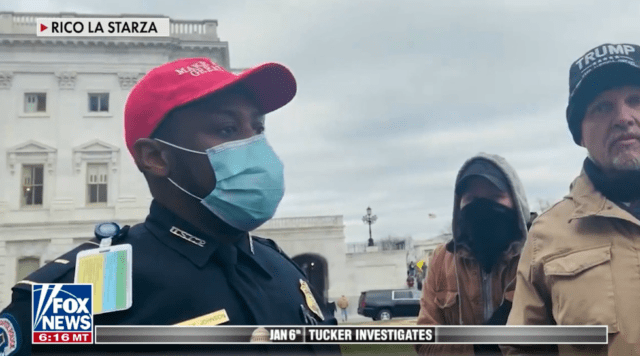 Consequently, in the aftermath of the event Johnson was placed on an indefinite suspension for having the hat on his head. He later resigned, which meant he forfeited his pension.
"I couldn't say what would have happened walking through that crowd without it," Johnson said.
Johnson still wonders why the January 6 Committee never called him to testify, Fox reported. Did it have something to do with images of him wearing the MAGA hat?
"Since you were there on January 6, what did you think of the job of the January 6 Committee?" Carlson queried.
"I prayed almost daily that they would get to me," Johnson replied. "I was never asked to testify… I was never asked by anybody connected to the January 6 Committee to testify. I asked myself why every day, and every day I might have a different answer. But, you know, pretty much they focused on Donald Trump and not the failures of the Capitol Police."
"Why do you think [the protesters] were there?" Carlson asked.
"I think that some people there had planned on being violent, some people may have turned violent after what they were going through," Johnson said. "I think that people wanted to support their president, they wanted to- some of those people wanted just to support him. And some of those people didn't commit violence and some of those people didn't plan on it."
WATCH TARIK JOHNSON INTERVIEW
Despite her professional failures on Jan. 6, Yogananda Pittman went on to be elevated by then-House Speaker Nancy Pelosi, D-Calif., to be acting chief of Capitol Police. Furthermore, she later took a post as head of security at the University of California Berkeley, right outside of Pelosi's congressional district.
"Tucker Carlson Tonight" said Pittman did not respond to an interview request.