Update:  24 hours after this article, Hartsfield's Book has climbed to #22 on the Amazon Best Seller List and #1 in Law Enforcement Biographies.

We need to keep pushing.  A top 20 on Amazon places it in the eyes of millions of shoppers.  You can order the book here.
---
During a brief discussion with Tulsa Police Major Travis Yates about the death of Las Vegas Metropolitan Police Officer Charleston Hartfield, he mentioned something that we want to pass along to you and we hope that you will pass it on to others.
Hartfield had just published a book in July 2017 called the Memoirs of a Public Servant, that documents "the thoughts, feelings, and interactions of one Police Officer in the busiest and brightest city in the world, Las Vegas. This memoir takes you through the personal interactions experienced by a Police Officer with not only the community he seeks to serve but with his partners and their personalities."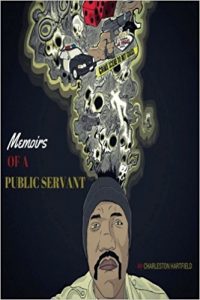 Yates told us that we should push for our audience and others to buy the book.  "Can you imagine if a million copies were bought this week," Yates told us.
"It could show the world what we could all do when we come together and reject hatred."
Furthermore, Hartfield's book is self-published through Amazon's Publisher, which means his family would likely get around $6 per book as a royalty.
The book is ranked 5 stars  with great reviews and since we started to push this idea, it is ranked #37 on the Amazon Top 100 List.  Let's do what we can to make it #1.
What do you think Law Officer Family?  We ask you to push this idea and don't stop until the book sells a million copies which would not only place it on the best seller list for the world to see but give his family some much needed financial resources.
You can purchase the book here.