HIBBING, Minn. – Former NHL player Adam Johnson, a native of Minnesota and playing in the Elite Ice Hockey League in the United Kingdom, died in October after he was slashed in the neck by an opponent's skate. His longtime girlfriend Ryan Wolfe was among more than 8,000 fans in attendance at Utilita Arena in South Yorkshire, England when the tragedy occurred.
Wolfe made a bittersweet discovery following the tragic death of her 29-year-old boyfriend. She learned he had plans to propose, according to multiple reports.
Johnson purchased Wolfe an engagement ring before the couple flew to England for the 2023-24 hockey season, According to two close friends of the Johnson family, he planned to propose to Wolfe, USA Today reported. 
"His grandmother told me that he had shown her (Johnson's grandmother) the ring before he left and he was going to propose at some point," said Scott Pionk, whose son played college hockey with Johnson.
Once Johnson's family revealed his intentions of marriage, Wolfe located the ring in their shared apartment in England, the news outlet reported.
Following Johnson's death, a memorial service was held in Minnesota. During the service, Wolfe read a letter that she said would've been similar to what she would have written to him on their wedding day, Fox News reported.
"I'm so lucky to have loved you and been unconditionally loved by you. You made me so insanely happy, and it feels like an understatement to say we were boyfriend and girlfriend or fiancées," she said, in part.
"I've never really felt like there was a label that could describe us, how well we fit, how in sync and aware of one another we were, how we agreed about everything under the sun, even if sometimes you liked to disagree with me on little things like the quickest way home or the best brand of peanut butter.
"To me, you were everything. You were my home, my best friend, my sounding board, my rock, my safe haven and the love of my life. I'm never going to stop thinking about you, missing you and loving you until we can be together again. I love you."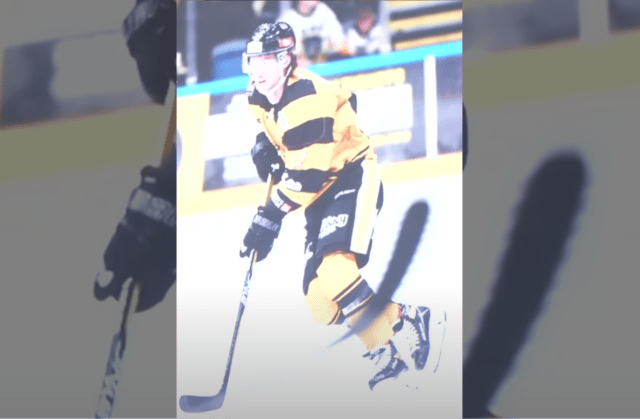 Johnson was playing for the Nottingham Panthers against the Sheffield Steelers on Oct. 28 when he was struck by the skate of 31-year-old Matt Petgrave. A post-mortem examination confirmed he died as a result of a fatal neck injury, police said.
Earlier this week, South Yorkshire Police made an arrest, but did not disclose the name of the suspect or provide his age. The man was taken into custody on Tuesday and charged with manslaughter. He was released from jail after posting bail on Wednesday, Law Officer reported.
The grisly contact between Petgrave, who plays for Sheffield, and Johnson reverberated around the hockey community and led to moments of silence in the NHL.
Video (below) of the bizarre action shows Johnson skating with the puck toward the Steelers' net. Petgrave skates toward Johnson and contacts another Panthers player. As the contact occurs, Petgrave's left skate kicks up as he begins to fall and the blade strikes Johnson's neck.
Matt Petgrave needs to be charged with manslaughter for killing Adam Johnson on the ice. What a dirty play. pic.twitter.com/Zvrj7Haz24

— Earl Joseph (@BigDaddyGirth) October 30, 2023
Johnson immediately collapsed, but was assisted to his feet and led towards the side of the rink by a teammate and a referee as blood covered the ice.
However, he collapsed before getting too far. Paramedics rushed to his aid and administered lifesaving efforts as players formed a protective ring around him to offer privacy.
The professional hockey player was then rushed to a nearby hospital and underwent emergency surgery, but later died from his injuries.
Matt Petgrave (YouTube)
Petgrave was said to be "absolutely distraught" following Johnson's death.