ARGO, N.D. — (Update) On Saturday afternoon, Fargo police released more information about the officers involved, including identifying the one who was killed — 23-year-old Jake Wallin, who became a police officer in April 2023 after graduating from the Fargo Police Academy IV.
The two officers who sustained critical injuries are Andrew Dotas and Tyler Hawes. They were listed in critical but stable condition.
Police say that the suspect, 37-year-old Fargo resident , died of his injuries at a local health care facility. Police say he was taken down by Fargo police officer Zachary Robinson, who has been with the department for seven years. Robinson has been placed on administrative leave, which is standard in these cases.
"The events of the last 24 hours have been among the most difficult in our department's nearly 150-year history. This was a heinous and unthinkable act of aggression against our officers and the entire metro community. As we all try to comprehend what has transpired and mourn the impact on our team and the entire community, we are bracing for extremely difficult days ahead," Fargo Police Chief Dave Zibolski said.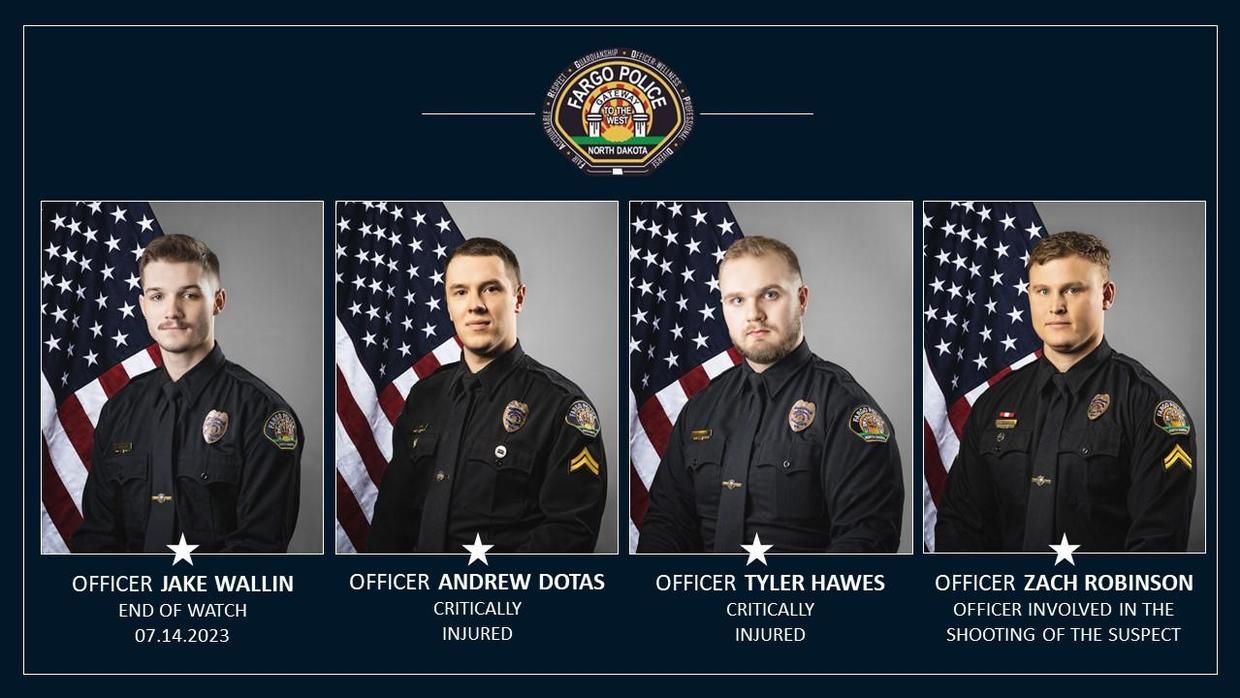 Witnesses said a man pulled a rifle from the trunk of his vehicle and opened fire on police officers before other officers shot him around 3 p.m. on Friday. Shortly afterward, officers converged on a residential area and evacuated residents while gathering what they said was evidence related to the shooting.
We mourn the loss and honor the memory of fallen #Fargo Police Officer Jake Wallin (End of Watch – 07.14.2023). pic.twitter.com/cNnWr9raMR

— Fargo Police (@FargoPolice) July 15, 2023
Surveillance video provided by Fargo resident Allison Carlson captured the rapid sounds of gunfire.
"We sincerely are asking for your patience and our community's patience and understanding as the Fargo Police Department works through this incident," Gregg Schildberger, chief communications officer for the city, told reporters at the scene later in the day. "This is very difficult on all of us. We are releasing as much information as we can at this point. … We appreciate all the messages from the community that have been given to us in support of our officers."