JEFFERSON COUNTY, Colo. – An emotional K9 handler in Colorado and his family are expressing the grief experienced when a police service dog is killed in the line-of-duty. Deputy Zachary Oliver with the Jefferson County Sheriff's Office lost his partner, K9 Graffit, when he was shot and killed while tracking a suspect earlier this week.
K9 Graffit was gunned down by a suspect who was also accused of driving into patrol cars at the Colorado School of Mines early Monday, according to officers with the Golden Police Department. The sheriff's K9 had been deployed to track the suspect before he was shot and killed near W. 6th Avenue and 19th Street, Denver 7 news reported. 
The suspect, identified as 29-year-old Eduardo Armando Romero, was captured and subsequently booked at the Jefferson County Detention Facility on several charges including one felony count of aggravated animal cruelty.
Deputy Oliver, teary-eyed and in the midst of dealing with the loss of his partner, thanked the community for their support and remembered a cheerful animal that was more than just a dog to him and his family. The deputy and his wife Alicia spoke to reporters on Thursday as they fondly reflected on time spent with K9 Graffit.
"He meant the world to me," Oliver said. "He was more than just a friend; he was my partner. I don't even know what it's going to look like now without him."
Graffit, a German Shepherd, had recently turned 10-years-old. The dog not only bonded with Oliver, but his entire family.
"Maybe I gave him a little too many treats and desserts right away to get him to like me, but I knew when I got Graffit that it was going to be — I was hoping for a much longer time — but we were going to be together and be partners for a long, long time," Oliver said.
"It's kind of unreal, knowing that he's not behind me, following me from room to room. And going to work without him is going to be a little different," he said during the conversation with Denver 7 news.
Mourning the loss of Graffit is extremely difficult, but Oliver told reporters he found solace in the fact that his partner died "for something huge."
"He sacrificed himself so that me and my partners didn't get killed. And I know that everybody I work with says, 'That could have been them with me.' That [it] could have been them; that Graffit saved their life. And that means a lot to me," Oliver said.
Since law enforcement K9s usually live with their handlers, the dogs form a close bond with the entire family.
"My 11-year-old and my 4-year-old [daughters], they cried a lot when I got home and told them… when we both told them. It was actually the hardest part of the whole day," Oliver noted.
"He was everything to us. Absolutely everything to us," said Oliver's wife, Alicia. "It's really sad that he's not here anymore. It's not fair."
Moreover, she said it was because of Graffit's sacrifice that she still has a husband and their daughters still have a father, Denver 7 reported.
"I'm glad that we're not having funerals for officers. I'm just glad that we're not having funerals for any humans at all," Oliver said. "Obviously, I wish it would have played out different, but I'm just, I'm glad no one's families have to bury a family member."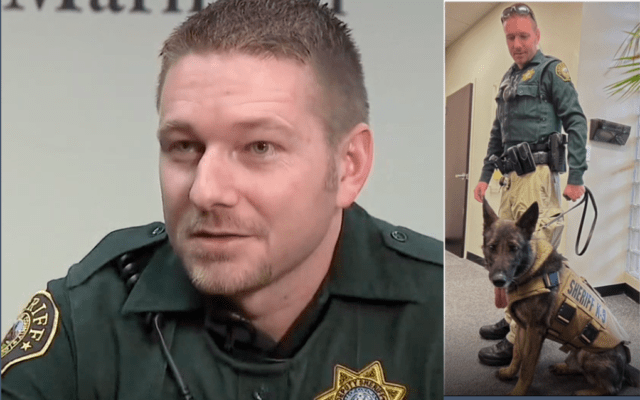 Oliver said becoming a handler fulfilled a lifelong goal. As a result, he plans to remain with the K9 unit in the future as there's "nowhere else I want to be in that department."
Furthermore, he expressed how difficult it would be to go back to being a police officer without a K9.
"I don't even know if I would want do to that because it'd be like going to work without my gun," Oliver said. "It just would make me feel empty."
"I'll never get over this," Oliver expressed with sorrow. "But I know that the community has helped and, with time, I know how important he was, and I know that his sacrifice wasn't for nothing. It was for something huge. And that makes it better."