Kansas City – A Chiefs superfan is listed as the Kansas City area's fifth-most wanted fugitive.
Xavier "ChiefsAholic" Babudar, better known to Chiefs fans as the guy who wears a KC Wolf costume to home games, is accused of robbing an Oklahoma bank in December according to Fox News.
Babudar is allegedly on the run after removing his ankle monitor ahead of a court appearance in March.
If Babudar is found, he will be held on $1 million bail because he's accused of removing the ankle monitor.
KC Crime Stoppers' site says Babudar is on the list for "failure to appear in court, warrant for bank robbery."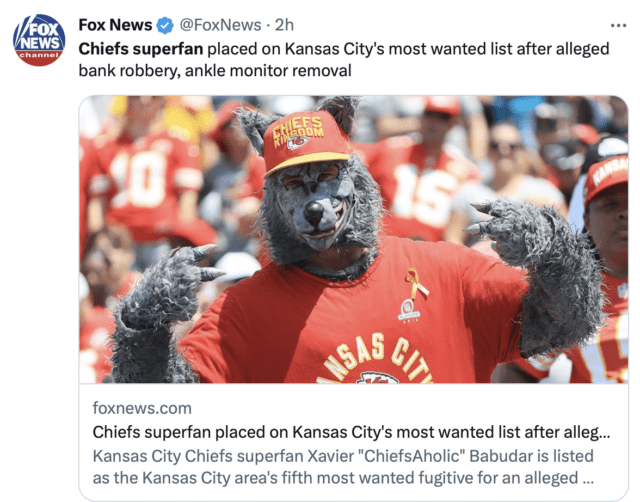 Two days before the Chiefs were to play the Houston Texans at NRG Stadium in Houston in December, fans wondered where Babudar's Chiefs-centric tweets were because he's normally active during the games.
People on Reddit were quick to make the connection that the superfan was arrested for allegedly robbing a bank in Bixby, Oklahoma.