ORANGE COUNTY, Fla. – Law enforcement authorities in Florida released bodycam footage showing the arrest of a Keith Melvin Moses who is accused of shooting five people on Wednesday, killing three. Among the dead are a 9-year-old girl, a 24-year-old news reporter, and a 38-year-old woman. The critically injured include another woman and a news photographer, Law Officer reported.
The footage shows deputies with the Orange County Sheriff's Office confronting the accused triple murderer on a residential street and yelling at him to get on the ground. Moses, 19, refuses the commands and raises his arms to his sides before being tackled, according to the New York Post. 
Moses repeatedly screams, "I can't breathe" as deputies take him to the ground. "Let me go!" he shouts when he is cuffed. "Let me go! I can't breathe!"
During the take down, deputies can be seen retrieving a firearm from his pant leg.
"It's still hot," one deputy says after retrieving the weapon and quickly inspecting it.
Keith Moses was taken into custody by deputies after five people were shot on Wednesday, three fatally. (

Orange County Sheriff's Office, Florida/Facebook)
According to authorities, Moses was traveling in a car with his cousin and a 38-year-old acquaintance named Nathacha Augustin on Wednesday morning in the Pine Hills neighborhood of Orlando when the series of murders began.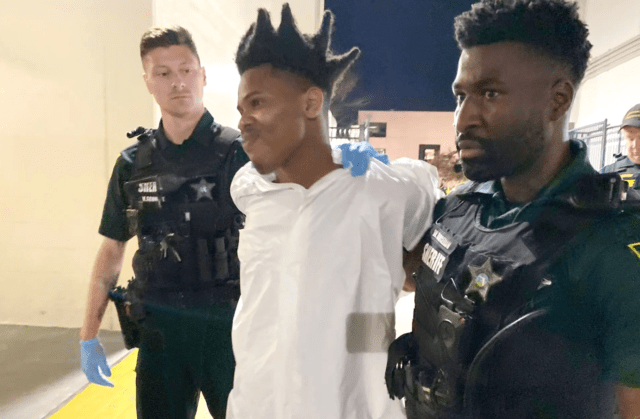 Investigators said Moses shot and killed Augustin inside the vehicle around 11 a.m., then fled. Four hours later he returned to the homicide scene and opened fire on Spectrum News 13 journalist Dylan Lyons, 24, and photographer Jesse Walden as they sat in an unmarked vehicle while covering the initial crime, officials said.
The reporter who was gunned down and killed while reporting on the earlier homicide was identified by his family as 24-year-old Dylan Lyons. (

Facebook)
Lyons, who was engaged to be married, was transported to the hospital where he was pronounced dead. Walden survived the attack and and was initially listed in critical condition, but authorities said he showed improvement on Thursday, reported The Post.
The Spectrum News 13 photographer critically wounded in a shooting has been identified as Jesse Walden. (

Linktree/@Jessewalden)
For reasons that remain a mystery, the homicidal rampage continued when Moses entered a residence on the street and opened fire, killing a 9-year-old aspiring gymnast, T'Yonna Major, and critically wounding the girl's mother.
T'Yonna Major was gunned down on Wednesday. (Image via New York Post)
"She was a light to everyone that knew her," the girl's grieving father Tokiyo Major wrote on a GoFundMe post. "She was everything to us. She was a great student at the top of her 3rd-grade class and reading at a 5th-grade level."
Orange County Sheriff John Mina said Moses has remained uncooperative and investigators are still trying to determine a motive for the deadly rampage, although drugs appear to be a central piece of the investigation.
After Moses was taken into custody, deputies took him to the hospital since they thought he might be under the influence of narcotics. Once they arrived at the medical facility, Moses began brawling with hospital staffers before deputies had to subdue him once again.
The sheriff said he continued to attack deputies after being transferred to a local stationhouse, and refused to speak to investigators about the attacks, pretending to fall asleep to avoid conversation, The Post reported.
Moses has several prior offenses as a minor, including weapons charges, assault and battery, as well as grand theft. Now he is expected to be charged with a multitude of crimes following Wednesday's bloodbath.