BIRMINGHAM, Ala. – Dozens of gunshots were fired in downtown Birmingham Wednesday evening, severely injuring a police officer and killing a man involved in an armed robbery of a downtown supermarket.
It all began about 6:30 p.m. when North Precinct officers were dispatched to a robbery in progress at the Family Supermarket, a mom-n-pop store on 23rd Street North.
Birmingham Police Chief Patrick Smith said as officers arrived, they saw the suspect leaving the store. However, during the confrontation, the suspect pulled out a handgun and opened fire.
Unfortunately, Officer Cullen Stafford was shot multiple times, al.com reported.
As a result, fellow officers loaded him into a police unit and rushed him to UAB Hospital's Trauma Center. Reports indicate Stafford was shot five to seven times. He was out of surgery by 10 p.m. Authorities say his prognosis is good.
The officer who was shot is in stable condition at UAB Hospital. We are waiting to hear from Chief Patrick Smith momentarily. https://t.co/rrNclF7Ppy

— carol robinson (@RobinsonCarol) July 18, 2019
"We often talk about how our officers put their lives on the line every day for our safety," said Birmingham Mayor Randall Woodfin. "Tonight is proof of the courage, valor and strength it takes to wear that badge. Officer Stafford, your city stands with you."
Many officers responded to Stafford's initial call for help. Nevertheless, once they arrived, the suspect continued shooting at them. Consequently, several rounds were fired at the suspect and he was killed. His name has not yet been released.
Moreover, Chief Smith said the suspect fired from multiple locations, but the final burst of gunfire took place near a parking deck in the 500 block of 25th Street. The armed robbery suspect died in bushes close to the deck.
It was indeed a gunfight. Authorities estimate between 50 to 100 rounds were fired in what has been described as a running gun battle, and an ambush.
There are reports that the suspect was firing from the parking deck before jumping to the bushes and continuing to fire, where he was ultimately killed. However, police have not confirmed that account.
At least one person was doing a Facebook live video from within the store, and then after exiting the store. That video recorded dozens of shots fired.
During the incident, a second officer fell and suffered injuries in a severe fall. "His condition as far as I know is very good," Smith said.
Police blocked off a wide perimeter downtown. The chief estimated the crime scene includes five city blocks.
"He fired from multiple locations, so we have many crime scenes within a very large crime scene because of the number of times the suspect fired at our officers,'' he said.
Smith praised the officers for quickly getting the wounded officer to the hospital. "The faster you get him there the better opportunity the surgeons and medical staff have to support the injured," he said.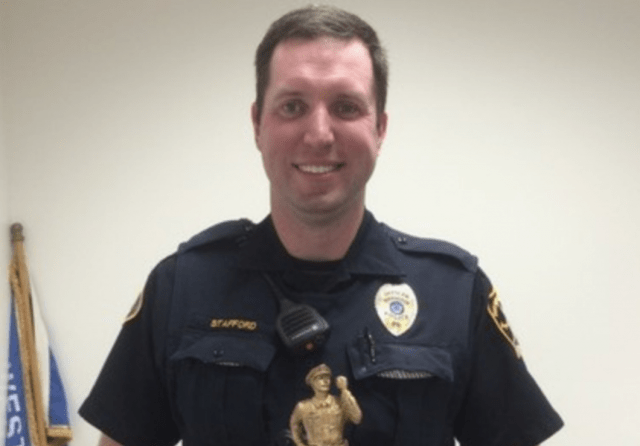 Wednesday night's shooting is not the first line of duty injury for Stafford, a veteran officer who turns 36 on Thursday.
Stafford and Officer Winston Hunt were seriously injured on June 30, 2017 when fleeing homicide suspects barreled into their patrol cruiser.
At the time, Hunt was still in training after graduating from the Birmingham Police Academy on March 17.
According to al.com, officers working the homicide scene spotted the possible suspect vehicle. They confirmed that it was in fact the suspects and a pursuit began. Another patrol car was waiting at the intersection of 18th and Grant, Sgt. Bryan Shelton said at the time. The suspects' vehicle made its way to that area and collided with the patrol car sitting at 18th and Grant. The two officers were T-boned by a suspect fleeing the deadly shooting.
Stafford was named the West Precinct's first Officer of the Year for 2016. "Officer Stafford has been a training officer for several years and he has been training two officers from every academy class and training transfers from other agencies assigned to the West Precinct," said then Capt. Paul Irwin, who is now the Pell City Police Chief. "All of the officers he has trained speak very highly of him, and this is the leadership that we need within all levels of law enforcement to be effective."
He said at the time Stafford also continuously responds to Shot Spotter calls. "He locates people who are firing weapons and most of the individuals end up being charged federally for the possession of a firearm by a convicted felon," Irwin said.
Multiple officers were keeping vigil at UAB Hospital Wednesday night. Police officials said Stafford will have to undergo additional surgeries for his injuries.
"It's very difficult for everyone, but this is a very tough job,'' Smith said Wednesday night. "We have officers who are here who we've provided a lot of training to, a lot of support. We're going to continue support them throughout this process, just like we did throughout the time we lost Sgt. Carter."
"I'm very confident our officers will do very well,'' he said. "It's just a matter of having the appropriate training and support behind you."
Here's the scene outside UAB Hospital, where an officer injured by a gunman and another officer hurt during the shooting in downtown Birmingham earlier this evening were taken. The suspect was shot and killed. Follow ⁦@RobinsonCarol⁩ and ⁦@aldotcom⁩ for updates. pic.twitter.com/oQM2reMqeq

— Howard Koplowitz (@HowardKoplowitz) July 18, 2019
"The Birmingham Police Department is out here working for you,'' the chief said. "We're going to do everything we can to make this city safe. Our officers are dedicated, and you can see just in the sheer actions that we're not taking this for granted. Birmingham is going to be a much better place in the future."
Asked if he had a message for criminals, Smith said this: "Our officers our out here to do a job and we're going to take care of the problems and circumstances we encounter."