If you are like us here at Law Officer, you must have thought things have turned for the better in Little Rock after Little Rock Police Chief Keith Humphrey went almost week before being sued again.
Well, just like Groundhog Day, Humphrey has once again been sued.
This lawsuit was filed by Assistant Chief Alice Fulk and Lt. Cristina Plummer.
And this time, Marion Humphrey, a friend of the chiefs told a local reporter that a lot of complaints about Humphrey come from people who have a "hard time accepting decisions made by black men who have authority to make decisions."
Let that soak in and we will come back to that in a few paragraphs…..
Similar to a lawsuit file last week by Assistant Chief Finks, Fulk alleges retaliation against her began because of her testimony about the investigation of Officer Charles Starks' fatal shooting during a stop last year to investigate a potentially stolen car.
Fulk was among several officers, including the entire chain of command, who said the investigation against Starks was rushed by the chief and a denial of Officer Starks' due process.
That opinion was shared by a judge and Officer Starks was ordered back to work.

The chain of command concluded Starks' actions were justified but the The chief fired Starks anyway.
During his job interview for the Little Rock police chief position, Assistant Chief Finks said, Mayor Frank Scott Jr. asked him the same question four times: "Who would you fire first if you were hired as police chief?"
The early March interview came at a time when the department was investigating Starks' fatal shooting.
Fink said that it was clear to him what the mayor was after with the repeated question.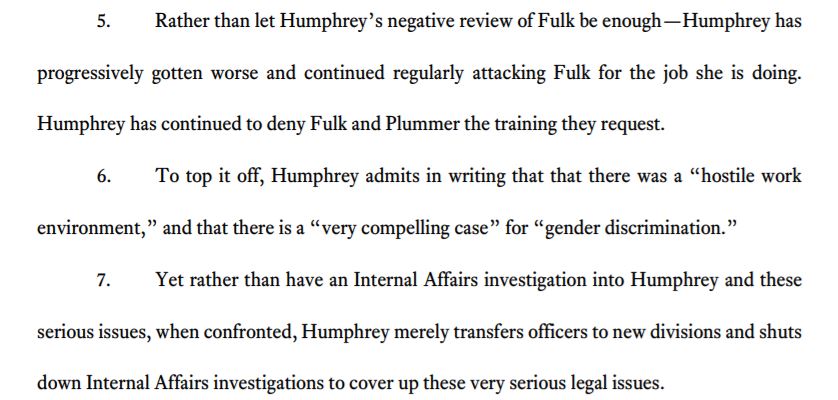 In this latest lawsuit, Assistant Chief Alice Fulk claims she was retaliated against following her testimony by receiving a negative performance review, denying her the same training opportunities given to others, lashing out at those that support Fulk in remarkably sexist language, and covering-up in his own words a "hostile work environment and gender discrimination" case (described in this chain of department communications).
LITTLE ROCK POLICE CHIEF HAS COST THE CITY OVER $110,000 SO FAR….
The new lawsuit similarly seeks damages for civil rights and whistleblower law violations. It alleges angry behavior by Humphrey and raises questions about his truthfulness in personnel issues.
Chief Humphrey or Little Rock Mayor Frank Scott has yet to respond to any of these lawsuits or our coverage of these troubling incidents.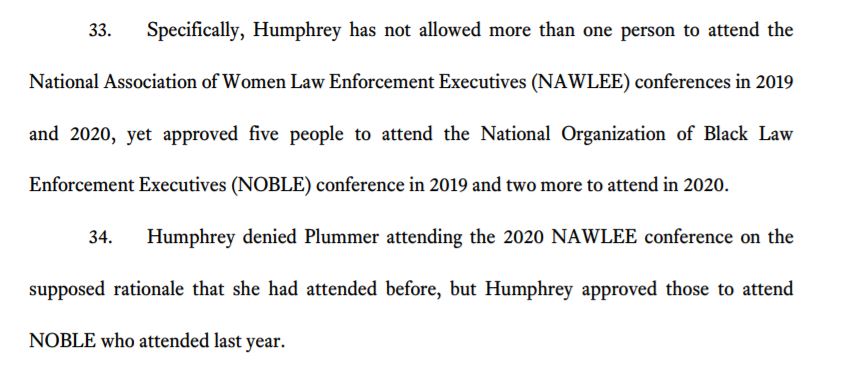 The Arkansas Times reports to have contact with a personal friend of the chief, Marion Humphrey, a lawyer and retired circuit judge that the chief believes these lawsuits are without legal merit and amount to complaints from people who don't like the way he runs the department, which is solely his prerogative.
Marion Humphrey called the lawsuits by the chiefs "sour grapes" for not getting the chief's job and believes that a lot of complaints about Humphrey come from people who have a "hard time accepting decisions made by black men who have authority to make decisions."
Admittedly, it's weird to have a guy with the same last name as the Police Chief, that has not identified as his lawyer, doing the talking for the chief and if you think it's incredulous what he said and if you have followed this story, you surely will, our sources tell us that is an honest assessment by Chief Humphrey.
Now keep in mind, Chief Humphrey isn't speaking for himself.  Mayor Frank Scott (who hired him) isn't speaking and while that should tell you a lot about their style of leadership, our sources tell us that while Chief Humphrey is annoyed by the lawsuits and press coverage, he has essentially "doubling down" in all of his actions and feels like he has done nothing wrong.
Let us be honest. Law Officer has been in this game for almost 20 years. We have published close to 20,000 articles
and we have never seen what we are seeing in Little Rock.
And no, this isn't because Chief Humphrey is black as his friend is suggesting although that should tell you even more of what the officers in Little Rock are dealing with.
We are pretty sure that when Chief Humphrey was sued for outstanding credit card debt, it wasn't because he was black.
We are also certain that when a black assistant chief sued him for retaliation, that was not because he was black.
We also don't believe that when a Little Rock judge threatened the city for contempt for the chief not following court orders, that had nothing to do with the color of his skin.
And we could go but we will spare you.
Unfortunately, the Little Rock Police Department has not been sparred and there will be more to come and when it does, you will hear it from us.
RELATED: