Phoenix police Officer Morgan Bullis is definitely bullish on police work, so much so that she pushed through tons of physical therapy and rehabilitative efforts to return to patrolling, after being shot on March 24, 2023.
In what Phoenix Police administrators called an "unprovoked attack," a recently paroled violent felon, armed with firepower, targeted Officer Bullis as she responded to reports of an automobile crashing into a house and a male toting a rifle outside.
Upon her arrival, Officer Bullis was ambushed while she was about to exit her Phoenix police cruiser. The 29-year-old paroled felon raised his rifle and pulled the trigger, striking Bullis in the hip. Shrapnel lodged in her face.
The true warrior she is, Officer Bullis was nonetheless able to re-position, reassess, take cover, and provide situational details to incoming officers, namely that she was under fire by an assailant. She stayed in the fight. She didn't die!
Despite being on the force for less than a year at the time of the shooting, her training kicked in.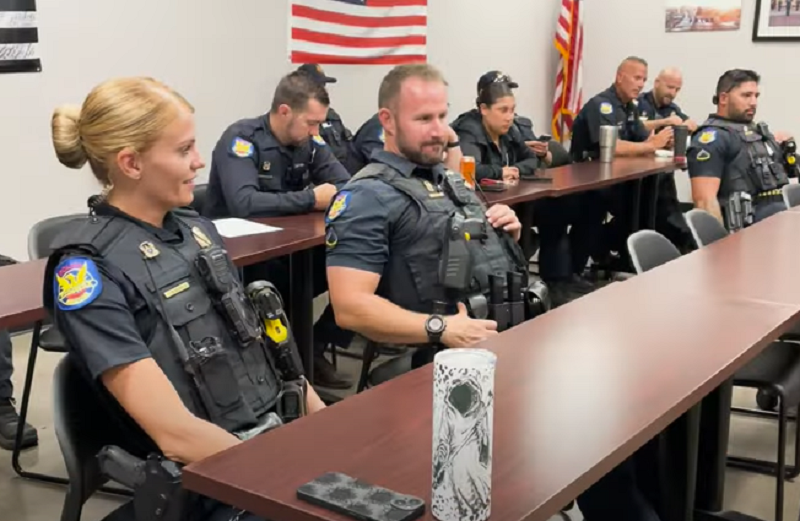 Despite being a convicted felon with a history of disciplinary actions against him while serving sentences in prison, the shooter was freely roaming the streets of Phoenix. Per ABC15Arizona, the shooter "had been released from prison less than a year ago, serving six years for a felony."
ABC15 reporters added that when the shooter was released from incarceration, "prison records show he was classified as having the highest level of internal risk."
After a lockdown of almost two dozen schools, while multiple law enforcement agencies endeavored to search for the shooter, an arrest was made as Officer Bullis was being treated at an area hospital, her colleagues lining the hallways in support.
Fast forward, and Phoenix police officers again lined up at the hospital, this time on the grounds outside as Officer Bullis was wheeled by a police detective to an awaiting vehicle for the trip home to continue recovery.
Having been in relatively similar circumstances —recurring cancer affliction/treatments— staring at buffed duty boots and being sidelined for some months as recuperation ensues, law enforcement cohorts, both sworn and non-sworn, catered much to my family and me.
All the support from my police family was unsolicited.
Unbeknownst at the time, law enforcement colleagues set schedules for meal deliveries, lawn care, bill-paying (from a collection authorized and contributed to by command staff, bolstered by employees working for the city's other departments), pretty much anything one could think of under harsh circumstances and uncertain future.
I suspect Officer Bullis went a tad impatient with the healing process and envisioned a return to the blue uniform. I had that suspicion before I viewed the following footage exhibiting her return to full duty (likely after working "light duty" roles until a physician officially declares she is fit for full duty responsibilities), portraying her suiting up and proudly stating, "My squad is my family."
You just can't keep cops down for long, especially in a climate of societal upheaval and inexplicable incidents such as this.
Per KTAR News, Officer Bullis has "had a long road of physical recovery, including learning to walk (and run) again. But learning to run again meant getting back to her job of protecting the community she loves — which she knew would mean the most to heal herself emotionally and mentally."
The adage of camaraderie among law enforcement officers is perhaps more palpable now than ever, given said climate and the brazen assailing of cops just about anywhere nowadays.
According to Phoenix Police's social media posts, "After being shot in the line of duty, Officer Morgan Bullis is back on patrol and excited to be serving her community once again. Welcome back, Officer Bullis!"
After being shot in the line of duty, Officer Morgan Bullis is back on patrol and excited to be serving her community once again. Welcome back, Officer Bullis! 👮 💙 #MotivationMonday#PhoenixPolice#PHXPD#PHXPolice pic.twitter.com/qkM230jsVq

— Phoenix Police (@PhoenixPolice) July 17, 2023
Reviewing some of the footage illustrating Officer Bullis' recovery and return to duty, a Phoenix Police narrator said something that likely resonates with police officers confronting bleak outlooks after line-of-duty tragedies occur.
"Putting this uniform on again is a big part of her healing," the narrator emphasized.
Here's hope that many cops never have to ponder that factor. Yet hope is what is harbored for cops who unfortunately confront potential derailment from a career they likely dreamed of as youngsters, with horrific possibilities nightmarishly taunting officers accosted by evildoers.
As one can imagine, the psyche is challenged by tons of what-ifs, namely the stark possibility of being deemed unfit for duty which, in context, hinders the healing process. What the mind perceives…can easily manifest (garbage in, garbage out).
That is where police families become the "blue glue," as one law enforcement colleague of mine coined when I was down in more ways than one. Those two words gave me hope and focus; never doubted, duly reminded. (My children, quite young at the time, were able to witness what it is like to be part of the blue family…and the turnout in good times and bad.)
Officer Bullis probably received the same supportive and encouraging pep talks from squad mates and coworkers from various police divisions.
While we are at it, there is another Phoenix cop who was shot and miraculously survived. He continues to expend every ounce of energy into a hopeful return to police duty and, once again, sticking around with his blue glue.
Defying all odds after being shot several times, Phoenix police Officer Tyler Moldovan has been putting in the time and doing the arduous work mentored by physical therapists, hoping to get back to serving his community, like Officer Bullis.
For this year's baseball season Opening Day festivities, Officer Moldovan and his wife took to the pitcher's mound to throw the first pitch at an Arizona Diamondbacks baseball game.
Lump-in-throat after watching that brief video? Me too! Check out another one, in which studio discussion embraces Officer Moldovan's fortitude and forward momentum.
The National Police Association published a few pieces about Officer Moldovan and his battle to, once again, don a blue police uniform, representing the city of Phoenix. His perseverance and progress and convictions of being a public servant despite the pervasive perils are nothing shy of remarkable and awe-inspiring.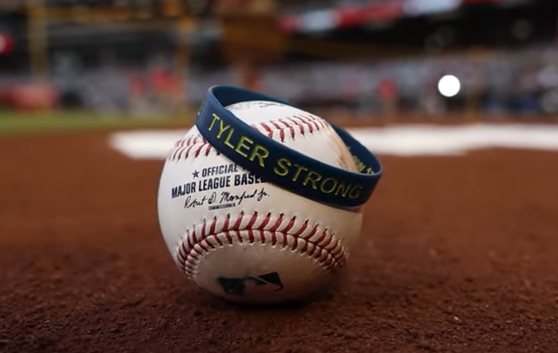 (Photo courtesy of the Phoenix Police Department.)
Indeed, squads are like family, picking you up when down and supporting you after a jolting journey exhibits what heroes endure…on behalf of citizens to whom they've vowed to protect and serve.
---
This article originally appeared at the National Police Association and was reprinted with permission.