Democratic presidential candidate Marianne Williamson fell for a fake news story Sunday night that claimed President Trump pardoned Charles Manson, the murderous cult leader who died in 2017.
"There is something deeply sinister about Trump pardoning Charles Manson, even posthumously," she wrote to her 2.8 million Twitter followers. "Dog whistles of the very worst possible kind…"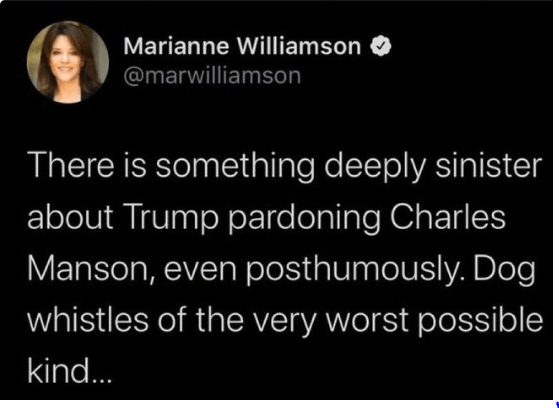 The self-help author, whose candidacy for the Democratic presidential nomination, later deleted the tweet and admitted the information was erroneous in a follow-up tweet. "Glad To have been wrong," Williamson wrote in a tweet that she also subsequently deleted.
While some have dismissed what has been referred to as "Trump Derangement Syndrome", this may be the best example of that very thing.