A police sergeant whose story has been widely overlooked by historians and sports fans alike inspired the boxing career of arguably the greatest fighter of all time—Muhammad Ali. It is a tale that seemingly resides in anonymity, yet it is true, according to the Muhammad Ali Center in Louisville, Kentucky.
My wife and I recently took a lengthy roadtrip, visiting dozens of iconic locations that we had yet to see in our life. One stop included the Muhammad Ali Center in Louisville. I am a pretty avid sports fan and have been saturated in athletics since I was young. Yet somehow I never heard the story of what inspired the legendary boxer to first step into the ring.
To my fascination as both a sports fan and a retired cop, I learned that it was a police sergeant who influenced a young boy to put on a set of boxing gloves and begin training—a decision that altered an incalculable number of lives around the world.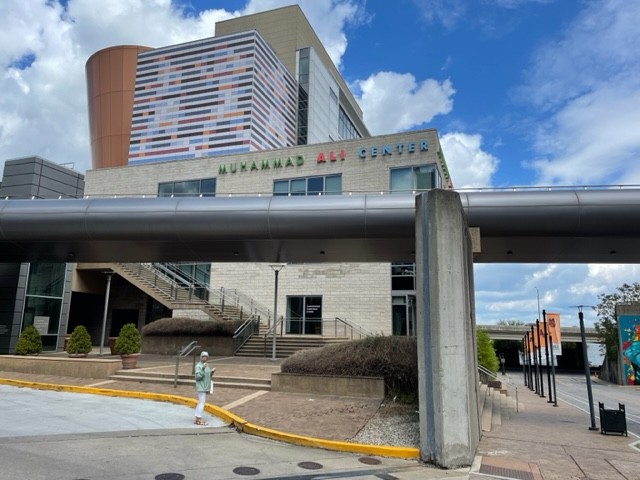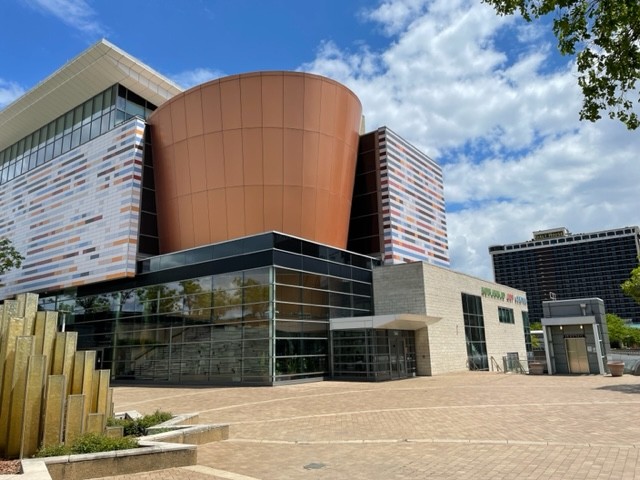 The Muhammad Ali Center refers to it as a "Red Bike Moment," and describes the tale this way:
"When Muhammad Ali—then Cassius Marcellus Clay—was twelve years old, a thief stole his new red Schwinn bicycle outside of the annual Louisville Home Show. Clay, in tears, found a policeman to report the crime to and stated that he wanted to "whup" the thief who stole his bike. Serendipitously, the policeman was Sergeant Joe Martin, who trained boxers. He encouraged Clay to learn how to fight before looking for retaliation. Martin's gym was in the basement of the same building they were standing in. Clay showed up the next day to start training and he spent the next six years under Martin.
"Had young Cassius not been the victim of a stolen bicycle AND had he not taken the advice of a police officer, his life would certainly have taken a different path. Cassius Clay's stolen bike became a catalyst for his boxing career and illustrates by example how Cassius found his purpose in life at an early age. 
"A Red Bike Moment is a transformational event in our lives that occurred because of a challenge or some type of adversity. It is an awakening that prepares us for something greater."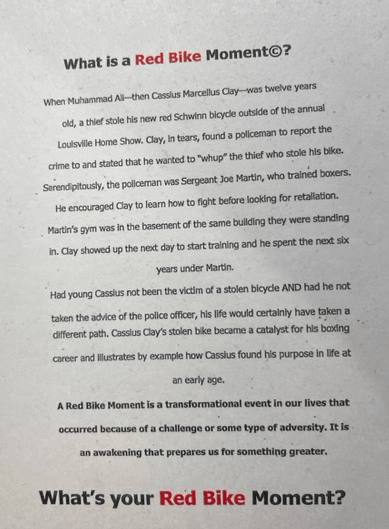 According to a 2021 article in the Louisville Courier Journal, "That man, Joe Elsby Martin, was an officer who ran the Columbia Gym, a recreation center that is now part of Spalding University's campus."
The Courier Journal further described it as a "rainy October night, and the boy had tears in his eyes when he spoke with Martin."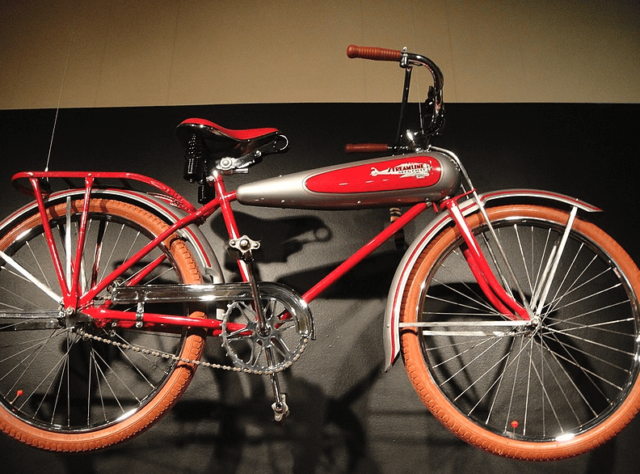 In a 1980 interview, Martin recalled, "He kept talking about how he wanted to 'whup' whoever it was who stole his bike. I told him before he started talking about whupping somebody, he'd better learn how to fight."
Indeed, Cassius Clay — Muhammad Ali — would go on to become an Olympic gold medalist, a three-time world heavyweight boxing champion, and "The Greatest" to ever "float like a butterfly and sting like a bee."
Martin was a Louisville native who died in the city in September 1996, just two months after Ali carried the torch opening the 1996 Summer Olympics in Atlanta.
In his autobiography, Ali wrote that he was so overwhelmed by the excitement of seeing the boxing gym, that he nearly forgot about his red bike, the Courier Journal reported.
"A feeling of awe came over me," Ali wrote.
For Ali, that was his "Red Bike Moment" — a turning point in his life. The stolen bike introduced him to Martin, who introduced him to boxing; Ali began training at the gym and just six years later, won Olympic gold.
The Muhammad Ali Center collects and shares "Red Bike Moments." Yet, this is not simply a story about Ali's "Red Bike Moment," but it highlights a point in history when a police sergeant took the time to invest in a 12-year-old boy who then went on to become a legend. And, in the words of another legend, Paul Harvey, "now you know the rest of the story."
---
MORE