Photo Courtesy:  Facebook
We previously reported on Memphis (TN) Police PTSD counselor Kelli Davis that recently described police officers as "thugs in blue" on social media.  Specifically she said:  "My hope is that some of the inexperienced thugs in blue will think twice before pulling the trigger when they attempt to arrest a black or brown person – there inexperienced, thuggish taxpayer paid actions indeed have a ripple affect!"
She took the post down and claimed that "hackers" placed the post on her Facebook Page.
On February 16, 2017, she posted:  "Yep it's official I was indeed hacked!"
Some of the responses on her claiming that it was "indeed" hackers were as follows:
"Kelli you don't have to explain. We all know that's not your character."
"I guess the hackers don't know that the blessing is on you. They'll see"
"Sorry, to hear your page was hacked! The media should check sources before reporting!"
We agree, the media should check their sources.  So we did……
Well, it appears that those pesky hackers went all 'Anthony Weiner' and did it back in July as well, just after five Dallas area cops were gunned down.
In her post, dated July 9, 2016, Davis writes,
These men lost their lives protecting– doing what Police officers are SUPPOSED to do… They were the REAL officers, the "good ones"—not the trigger happy thugs in blue that selfishly &'punkishly killed those two fathers on camera! #ImstillMad –#ImstillHURT bcs I believe if the THUGS in blue were better trained; these REAL officers would still be here 2day! Yep I choose to believe this ALL started with those Thugs in Blue! With that being said–#BLACKLivesMatter #BLUELivesMatter
Davis apparently blames the assassination of five cops in Dallas on two previous police shootings that had not yet been investigated including the Baton Rouge Shooting of Alton Sterling where as of this writing there have been no charges filed.  We suppose that blaming the murders of cops on the racist, evil person that actually did it is not in her character?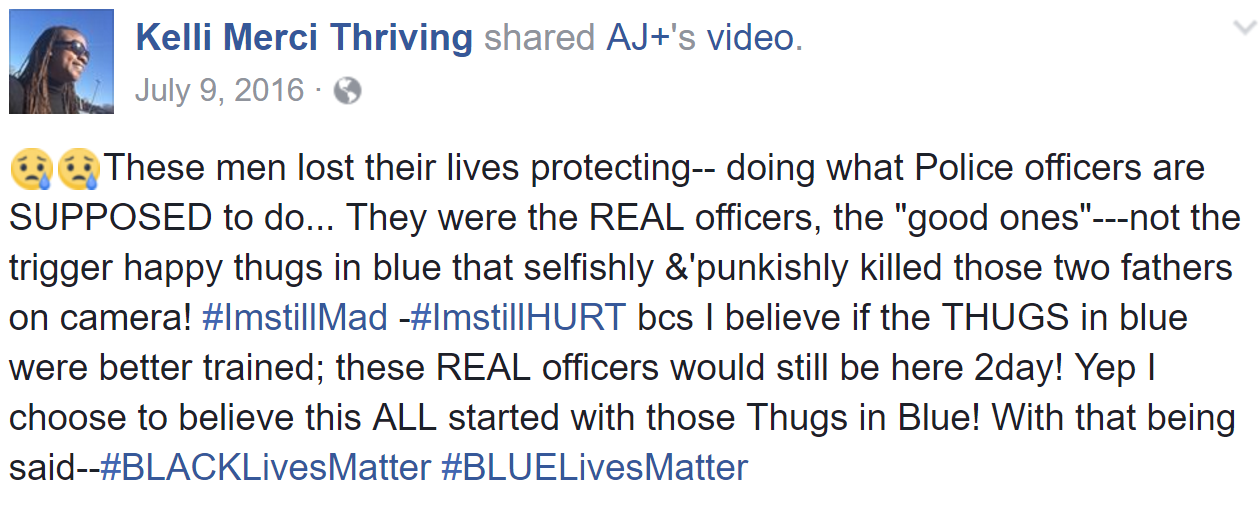 Davis would have us believe that after she was hired by the Memphis Police Department, a 'hacker' posted the term "thugs in blue" on her Facebook page last week while she, herself posted the exact same term back in July.
Last week's post said that "thugs in blue" were "inexperienced" while July's post said that "thugs in blue" need to be "better trained."
We will make this easy for our readers.  Davis is an uninformed and discriminating citizen that had no problem taking money from a police department and worse, it appears she is a liar.  We wonder what Davis would say about a police officer that called her or a friend of hers a "thug?" What would she do if a police officer lied?
Would she blast a Facebook post and call the cop "LiarThugInBlue?"
We aren't sure but we know this.  Law enforcement, unfortunately, is all too familiar with individuals like Davis judging prior to investigations and before facts are out.  We've called it the "New Discrimination" and while Davis could be part of the solution, she sadly is just feeding to the problem.  Police officers as well as counselors are not perfect but both owe it to those they serve to be professional, tell the truth and wait for facts to be revealed before judgment is passed.