In recent months, Law Officer has been reporting on what may be the craziest thing we have ever seen and it's happening in the Little Rock Police Department.
For months, Little Rock Police Chief Keith Humphrey has been the subject of several lawsuits and investigations that range from unpaid debt, gender bias, deception and retaliation just to name a few.
A few weeks ago, Chief Humphrey sent a department wide e-mail calling himself "competent" and "resilient" which was an obvious knock on the drama that was happening around him.
And if you thought that was weird, you won't believe what he sent today to the department.
SEXUAL HARASSMENT CHARGES EMERGE ON LITTLE ROCK POLICE CHIEF
Due to COVID-19, the Little Rock Fraternal Order of Police has been unable to meet to address the actions of Chief Humphrey and tonight they will be meeting for the first time.
ATTORNEY GENERAL LAUNCHES INVESTIGATION ON LITTLE ROCK POLICE CHIEF
It is assumed that a discussion will occur on a 'vote of no confidence' on Humphrey although we have to say that has already happened with the citizens of Little Rock and law enforcement across the country.
Just a few hours before that meeting was to occur, Humphrey sent the below e-mail out to the department.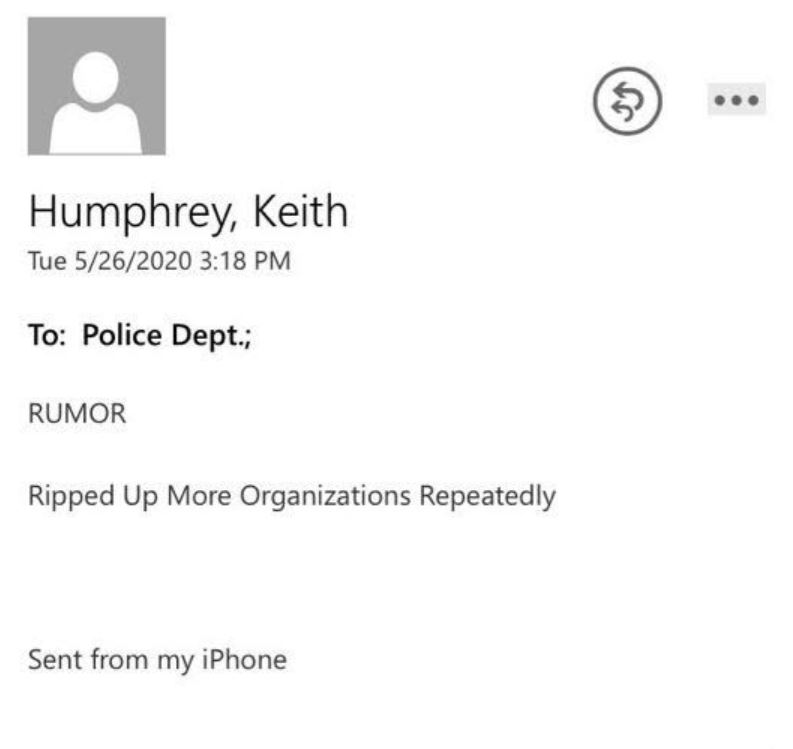 We aren't sure what is more ridiculous. The words in this e-mail or the fact that a police chief can't figure out how to put a profile pic or change the default iPhone settings in his signature.
At least if you are going to act like a 12 year old, have the technology skills to back it up.