Las Vegas Metropolitan Police Officer Charleston Hartfield, 34, was off duty on Sunday, enjoying a night out at the Route 91 Harvest when Gunman Stephen Paddock unleashed a hail of bullets on the crowd.
Hartfield, who served in Iraq with the Nevada Army National Guard, jumped into action, according  to Las Vegas Police Protective Association President Steve Grammas.
"His last moments on earth were spent trying to help other people, getting people out, and getting them to safety," Grammas told the Daily News.
Hartfield, a father of two who was at the show with his wife, was one of those mortally wounded.
"Charleston went out a hero."
Hartfield, an 11-year veteran of the force, was always one who went straight for the action.
Although he was recently assigned an office job, dealing with the department's body camera program, Hartfield was known to love the "action" of police work.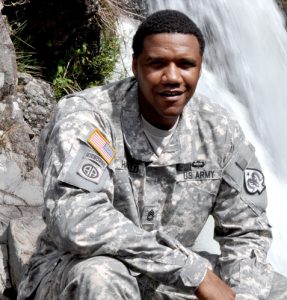 He documented some of that action in his recent book, "Memoirs of a Public Servant," which was published in July 2017.
President Trump, in Las Vegas on Wednesday, described Hartfield's death as "a tragic loss for this police department, this city and for our great nation."
Undersheriff Kevin McMahill, second in command of the Las Vegas Metropolitan Police Department, choked back tears as he spoke of Hartfield's death and the family he leaves behind.
"Even though Officer Hartfield was at the concert as a civilian, he immediately took action to save lives," McMahill said. "In that moment, he was acting as a police officer. He ultimately gave his life protecting others."
Tulsa Police Major Travis Yates has been to Las Vegas several times and conducted training for area officers.  He describes the agency as "one of the most professional he has ever been to," with some closing words on Hartfield himself.
"Officer Charleston Hartfield is the epitome of a hero.  A military veteran and public servant that was not only an author but someone that others will be writing and talking about for generations," Yates told us.
How should we honor Hartfield?  We agree that telling his story for years to come is important but Yates offered an additional idea.  "His book needs to be bought a million times," Yates suggested.
"How about if our country sends a message to Hartfield's family, Las Vegas Metro and the entire world by placing Memoirs of a Public Servant on the best seller list."
You can purchase Hartfield's book here.