HYATTSVILLE, Md. — Prince George's County Police say officers shot and killed a knife-wielding suspect Thursday morning in Hyattsville.
Authorities say during the encounter, the man said "I embrace death" before he lunged at officers after a bean bag was fired at him and a flashbang was used to distract him.
The man has been identified as Leonard Lancelot Shand, 49, reported WJLA.
Witnesses told ABC7 the man was known to the people in the are. Moreover, they believe he may have been homeless.
@PGPDNews Chief @ChiefPGPD says there were 3 uses of tasers as well as pepper spray before shooting. Says dash cam and body cams captured entire incident

— Brad Bell (@ABC7Brad) September 26, 2019
Prince George's County Police held a media briefing Thursday to provide an update on the incident. Authorities emphasized that information is preliminary and an investigation is ongoing. However, they said dashcam and body cam footage captured the entire incident.
WARNING: Graphic video. Also, our apologies, but the best images we could locate — and successfully embed — came from a person who thought it was necessary to provide untruthful, anti-police commentary. 
https://twitter.com/rozalynxwingate/status/1177223899345489921?ref_src=twsrc%5Etfw%7Ctwcamp%5Etweetembed&ref_url=https%3A%2F%2Fdefensemaven.io%2Fbluelivesmatter%2F
According to police, the man was reportedly a suspect in an assault of a Starbucks employee a few days ago at the store's location near East-West Highway in Prince George's County.
On Thursday morning, employees at that Starbucks store contacted police to notify them that the man returned and was "armed."
Investigators say they received a report of a man running around with knives in his hand. As a result, six Hyattsville officers, a Mt. Rainier officer, and three Prince George's County officers responded to the scene.
Officers approached the man and walked and talked with him for 30 minutes. Eventually, they ended up in the area of Toledo and Belcrest Roads.
An officer was armed with a less-lethal weapon when the man charged at the officer. Police say the other officers at the scene reacted and came to the defense of the officer carrying the less-lethal weapon.
According to police, four beanbag rounds were launched toward the armed assailant, Tasers were fired, and pepper spray was also used in an attempt to stop the man.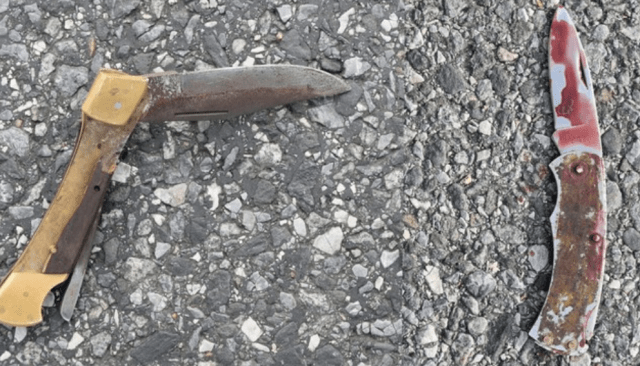 When those efforts were unsuccessful, police say that's when officers used lethal force and shot at the suspect.
The OIS of the knife-wielding suspect will be an ongoing investigation.
More video can be viewed via WJLA here.