UPDATE: "Officer Julian Becerra passed away at 7:14 pm on 2/11/23. Please keep his family in your thoughts and prayers. We are all grateful for your incredible thoughtfulness, generosity, and support during this difficult time," Becerra's brother-in-law David Alderman Alderman wrote on the GoFundMe page.
Read more.
---
FOUNTAIN, Colo. — A police officer in Colorado remains in critical but stable condition after he took a devastating fall of about 40 feet from an Interstate 25 bridge while trying to apprehend a carjacking suspect Thursday evening.
Julian Becerra with the Fountain Police Department was identified as the critically injured officer. Members of his family discussed the shock they are experiencing, Denver 7 reported. 
"You always have it in the back of your head — if you have a friend or family member in that field, that it's a possibility," Becerra's brother-in-law David Alderman said. "It's one of those things where you never think that it will happen to you or your family."
After Becerra suffered critical injuries in the line of duty last week while trying to protect the community, those fears became reality for the family.
Alderman said his sister Katie and Becerra have been together for years, and they have a 1-year-old son.
"[He's] just a fantastic dad … and a great husband as well, just always there for his family, and never complaining. He's just a fantastic guy," Alderman said.
"And having two daughters of my own, I've actually gotten to learn a lot from him as far as being a dad," Alderman noted, according to 9 News. "You know, police officers have the reputation of being rigid, but he is just such a fantastic guy, easy to talk to, very easy going and just a good person in general."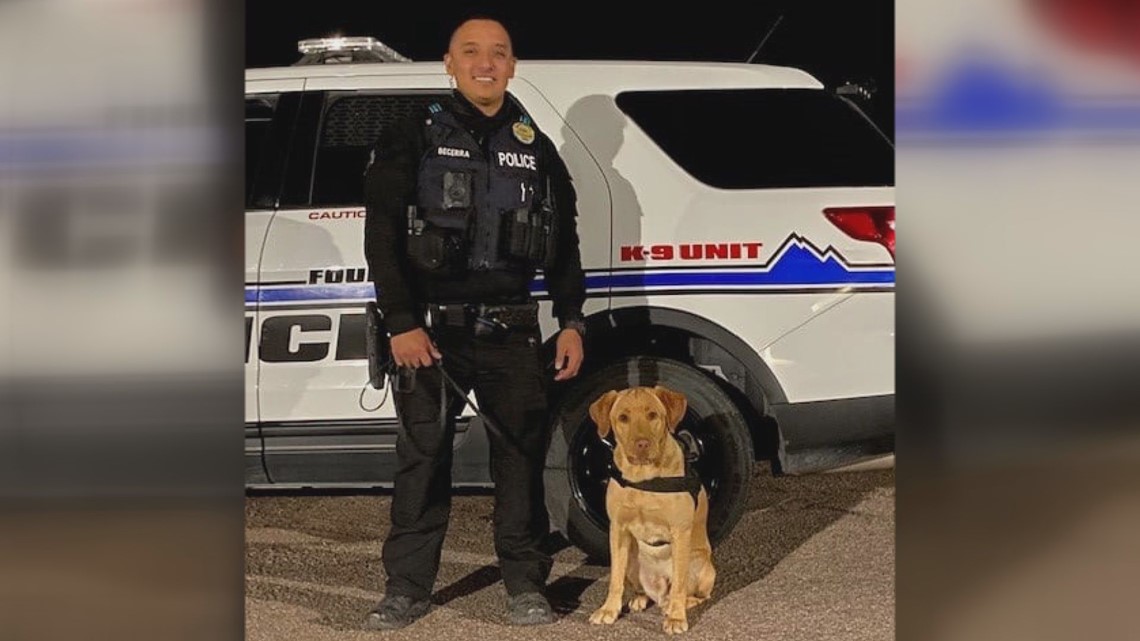 During Friday's press conference, the Fountain Police Department said it is trying to determine how Becerra fell from the bridge.
"Whether it was a fall or trip, a push, a slip, we really don't know. We're reviewing all the evidence that we have at the moment," Commander Mark Cristiani said. "He's resting with his family and other Fountain officers are there. We will be there around the clock in some form or fashion."
Alderman reflected about time spent together with the family, including most recently a vacation to San Diego. He adds that his own daughters have built a connection to Becerra, 9 News reported.
"When my daughter Lorelai was born, she really didn't like a ton of people. She had that initial stranger danger, as children do at that age. But she clinged right on to Julian," he recalled. "He surprises me every day by the amount of time that he obviously works as a police officer, but then gets home and and takes care of his kiddos and his wife. So the amount of devotion that he has that doesn't surprise me that he's working really hard and trying to keep our community safe."
As family members hope and pray for a speedy recovery, they've launched a GoFundMe page to help cover unexpected costs.
"Julian is married, has an 8 year old daughter, and a 1 year old son. He is an Air Force veteran and has been serving as a police officer for 5 years," Alderman wrote on the fundraising page.
"His wife, my sister, Katie is a nurse and will likely have to stop working for an undetermined amount of time until they get back on their feet."
Finally, Alderman asks for prayerful support as the "tough guy" works "through this."
"Please keep him and his family and us in your thoughts and prayers and thank you so much for all the support," Alderman said. "He's a tough guy, and he's gonna get through this."
Law enforcement authorities arrested the carjacking suspect, identified as Devon Bobian, 31, of Pueblo. Two of his cohorts were also taken into custody. They were identified as Anthony Vallejos, 37, of Pueblo and Danisha Pacheco, 28, of Pueblo, Denver 7 reported.
Bobian and Vallejos were arrested on active felony warrants, as well as felony charges related to the crime. Pacheco was arrested on felony charges related to the incident.