April 15, 2023
TACOMA, Wash. – Prosecutors in the State of Washington on Friday charged former NBA star Shawn Kemp with first-degree assault. The crime occurred during a mall parking lot shooting last month involving a confrontation over a stolen cellphone. Prosecutors said a text message sent by Kemp just before the shooting demonstrated his intent to confront and shoot the person who had reportedly stolen from him, ESPN reported.
Despite Kemp's claim that he was fired upon, no one shot a gun at him during the confrontation, according to a probable cause affidavit by the Tacoma Police Department. Moreover, the document filed in Pierce County Superior Court on Friday revealed that some of Kemp's statements were not corroborated by surveillance video, and that the text message sent just 13 minutes prior to his arrival at the mall showed his intent.
Kemp's defense attorney, Tim Leary, issued a written statement on Friday, saying the former basketball standout would plead not guilty: "He is confident that once the jury hears from the witnesses and sees the evidence at trial, they will conclude that he was justified in defending himself that afternoon."
---
Law Officer article, March 9, 2023
TACOMA, Wash. – A six-time NBA All-Star was booked into jail for his alleged involvement in a shooting in the State of Washington. According to police, Shawn Kemp, the former high-flying hoopster whose professional basketball career spanned from 1989-2003, was arrested following a shooting at the Tacoma Mall, the New York Post reported.
On Wednesday, the Tacoma Police Department announced that shots were fired following an altercation between the occupants of two vehicles in a parking lot. One of the automobiles fled the scene and a gun was later recovered.
At 1:58 pm, an altercation between the occupants of 2 cars led to shots being fired at a parking lot in the 4500 blk of S. Steele St. One car fled. No injuries were reported. A gun was recovered. A 53-yr-old male was booked for Drive-By Shooting. The investigation is ongoing. pic.twitter.com/XTIeU1I4Jj

— Tacoma Police Department (@TacomaPD) March 9, 2023
Tacoma Police said a 53-year-old male was booked for the shooting. Authorities said no one was injured by gunfire, and there is an ongoing investigation.
According to the Pierce County Corrections records, Kemp was booked at 5:58 p.m. and charged with a Class B felony in the state of Washington. It carries a maximum sentence of up to 10 years in prison, The Post reported.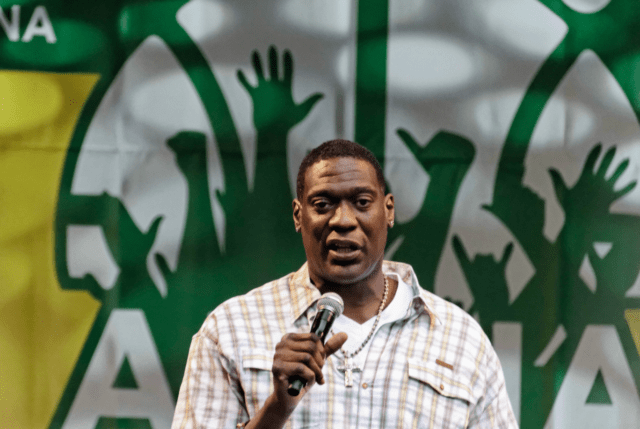 Sources close to Kemp told FOX 13 in Seattle that he had property stolen from his car the day prior. Kemp tracked his iPhone to Tacoma. When he approached the vehicle, a person shot at him, so he reportedly returned fire in self-defense.
Kemp starred for the Seattle Supersonics (now the Oklahoma City Thunder) from 1989-1997, before moving on to play for Cleveland, Portland, and Orlando where his career ended in 2003.  He and Gary Payton led Seattle to the 1996 NBA Finals, but lost to Michael Jordan and the Chicago Bulls.
The former NBA star has previously been arrested for drug possession in the state of Washington in 2005, for which he was formally charged and pleaded guilty. He was arrested again in 2006 for misdemeanor marijuana possession in Houston.
Kemp currently operates two cannabis dispensaries in Seattle.