One of the largest issues with law enforcement today is leadership and much of the problems the profession is facing stems from leaders not understanding what their mission is. The mission of law enforcement is not complicated but with just about everyone, everywhere making some demand, many law enforcement leaders have errored in not placing a primary focus on the sole mission…crime reduction.
That's why I generally don't approve of Mayors (who hire police chiefs) that take a "community survey" to help them hire a chief. I understand why it's done. It feels good and looks good but the hiring of any police chief will set the direction and tone of the agency including the safety and security of the residents and that kind of responsibility is too important to let some in the community dictate it.
It's not that the community shouldn't have input because they should but what if those making demands in the community have no idea what the qualifications and mission of the chief should be?
If I got asked who should be the next CEO of Twitter, there's no way I have the knowledge to give an adequate answer and if you think a police department is a simple organization and that's a bad comparison, you haven't spent much time in a police department.
But what do I know?
Most citizens understand completely what the job of a police chief should be. Hard working, law abiding citizens want their police department to be like a referee. They know they are there, and they don't pay much attention until they need them. Those same citizens completely understand that crime control is what law enforcement does. If they suspect a crime, they call the police and if they are a victim of a crime, they call the police. Citizens want to be safe and they want security and that's the extent of what they expect from a police chief and their agency.
It's not that citizens shouldn't have input because they don't know. My question is "which" citizens are being asking?
Are they the same citizens that yell racism every time the police actually fulfill their mission of stopping crime?
Are they the same citizens that shout "defund the police" because it made them cool at a city council meeting?
This alone is why police chiefs are off the mark when it comes to their mission. They have been pandering to citizens that don't see cops as referees but as some social experiment to completely ruin communities.
The Louisville Experiment 
When I saw that Louisville Mayor Craig Greenberg surveyed the community on what they wanted in a new police chief, I was immediately suspicious. There may be no greater example of weakness and wokeness than the leaders in Louisville. If you disagree, I highly recommend this article and interview.
It would take an entire book to cover their shenanigans and Sgt. John Mattingly (ret.) wrote a great one but there's a reason why Louisville is one of the most dangerous cities in America and it's because the leaders both within and outside their police department have long forgotten the mission.
But I was wrong.
In what must have been a moment of confusion, Mayor Greenberg actually endorsed a community survey to the actual community and not the crazy, insane mob that has taken what was once a great city to a third world country.
In a survey conducted by Public Sector Search and Consulting, Inc., which has been working with Louisville  on the search and selection of the next permanent chief of police, 1214 residents responded to a series of questions and the results only support what I have been teaching and saying for years.
Citizens want to be safe.
Survey Results
72% of the respondents want a chief with a track record of reducing crime and promoting community safety.
76% want a leader that has integrity and 60% want a chief with a track record of recruitment and retention.
65% said that crime reduction should be the top priority and curbing gun violence came in a close second.
What is telling in the survey is what the lowest priorities are and that should make every leader in Louisville run to the retirement home after what they have put the police department and their citizens through in recent years.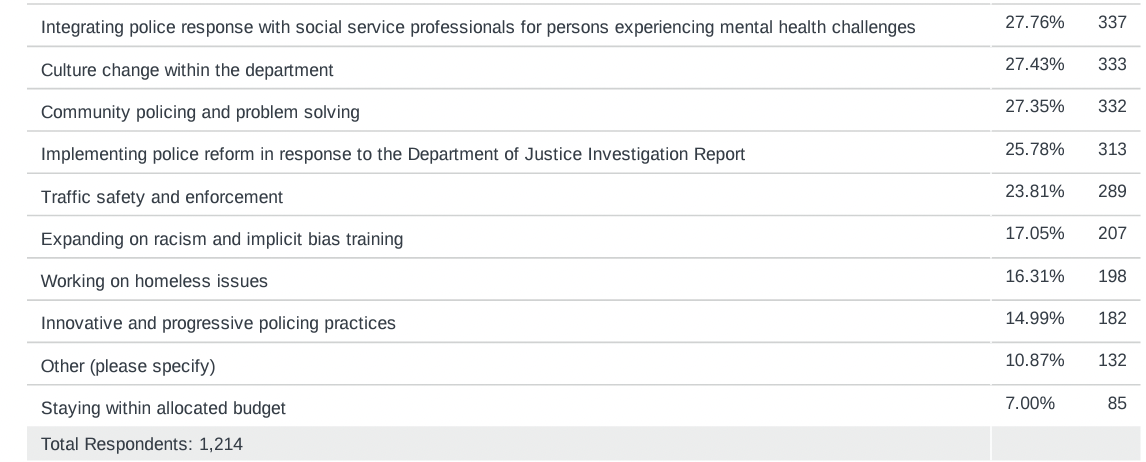 Diversity, equity, inclusion, implicit bias, consent decree implementation and "progressive policing practices" were only mentioned because they were placed on the survey but the results have to be depressing for the city leaders.
Each of the categories came in at the bottom of the priority list with "progressive policing practices" rounding out the bottom at a whooping 15% from the citizens.
A Message To Residents
Citizens everywhere understand the priorities of law enforcement and they equally understand that they have been abandoned by an ideology that is creating one of the most dangerous environments that America has ever seen.
It's time that citizens take back control of their city government and ensure that elected officials are held accountable for abandoning the mission of law enforcement for an agenda that few subscribe to. The work by Paula Fitzsimmons is commendable and she is just one example of the influence that one citizen can have in their community.
This survey is a microcosm of every community and it's not as if diversity, implicit bias, etc. are not important…but it is not the most important when it comes to citizens wanting to survive and thrive in the communities they live in.
The mission of crime and safety is.
---
Dr. Travis Yates is a commander with a large municipal police department and author of "The Courageous Police Leader: A Survival Guide for Combating Cowards, Chaos & Lies." His risk management and leadership seminars have been taught to thousands of professionals across the world. He is a graduate of the FBI National Academy with a Doctorate Degree in Strategic Leadership and the CEO of the Courageous Police Leadership Alliance.