WASHINGTON — The secrecy has been maintained for more than seven months. Now the U.S. Capitol Police officer who was involved in the fatal shooting of Ashli Babbitt — a protester who was climbing through a broken window into the Capitol on Jan. 6 — has been identified.
Although the identity was known to many people on Capitol Hill, no one would divulge it. The confidentiality fueled months of online speculation. Babbitt's family alleged a coverup and plans to file a lawsuit once the requisite months-long notice period expires.
"The U.S. Congress wants to protect this man. He's got friends in high places and they want to protect him," said Maryland attorney Terry Roberts, who represents the Babbitt family. "And they've done a pretty good job of it. … I don't think it's a proud moment for the U.S. Capitol Police or the U.S. Congress."
Roberts said Wednesday night the shooter was "Lieutenant Michael Leroy Byrd," Newsweek reported.
Byrd's attorney, Mark Schamel, did not dispute the positive identification.
Roberts said race was "clearly a factor" in the decision to maintain Byrd's anonymity and keep him from public scrutiny.
"It's something that has to be considered, because it's just a clear pattern in the United States," he said. "A white cop kills a black individual? Their name is out there within a day. It's all public. And look, a police officer is a public official. There should not be any exception for this."
After the government shielded Byrd's identity from public disclosure for months, Babbitt's lawyer said he became skeptical when he learned Wednesday that the lieutenant was set to appear with Lester Holt in an NBC News broadcast the following day—and that NBC had already taped the interview, according to Newsweek.
"They put out there that his [Byrd's] life would be in danger if he came forward, and we know now that that can't be true because he's coming forward on his own," Roberts said. "So, you know, he used that as an excuse."
"Is Byrd's decision to grant a public interview an indication that fears for his safety were unfounded?" his attorney Mark Schamel was asked him during a phone call Wednesday night, Newsweek reported.
"Not in any way, shape or form," Schamel replied, before declining any further comment. Minutes later he texted: "I can confirm that my client is a hero. My client justifiably used force to protect members of Congress from an imminent threat posed by violent rioters and that he shot the first rioter who breached the inner sanctum of the House of Representatives and … there is no basis in law or fact for a civil case against him or the Capitol Police."
"If the violent insurrectionist who died [Babbitt] had survived," Schamel wrote, "she would have been indicted on felony charges and would have been on her way to prison with her fellow insurrectionists."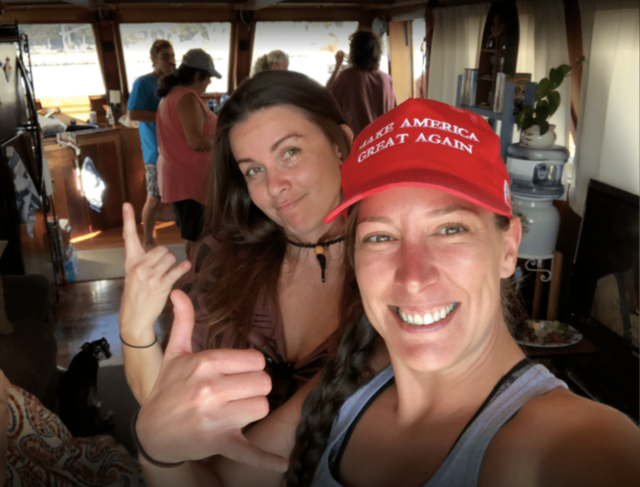 However, most of the hundreds of January 6 protesters who have been formally indicted are charged with trespassing, vandalism or similar minor offenses. Convictions for these offenses seldom draw jail terms, even though Capitol rioters are being treated far more harshly than rioters in Minneapolis, Seattle, or Portland, just to name a few big cities where rioting has become commonplace in the past 15 months.
The Identify of Ashli Babbitt's shooter is—

Lieutenant Michael Leroy Byrd.

Multiple Mainstream Media Outlets have known this, but they REFUSE to run the story.

Why is that? pic.twitter.com/xq5OKWfxU4

— Tayler Hansen (@TaylerUSA) April 13, 2021
Byrd — who has family roots in Jamaica, according to neighbors — is a controversial figure with a record of mishandling firearms, including once leaving a loaded handgun in a Congressional Visitor Center bathroom, Zenger News reported.
Roberts said Byrd's decision to fire his weapon on January 6 indicated his unfitness for duty, according to Newsweek.
"If I was a congressman, I'd be very concerned about him carrying a gun around me," he said.
Byrd was not justified in killing Babbitt, Roberts declared, since he had no reason to believe the unarmed Air Force veteran posed a threat to himself or others. Byrd fired the only shot at the Capitol on January 6, and Babbitt was the only person there killed by gunfire that day.
Schamel, insisted on Byrd's anonymity since April, citing the lieutenant's physical security, and powerful people in Washington were happy to play along.
"Running the name of a hero who has the need for 24-hour protection is disgusting and indefensible," Schamel said July 9 in a text message. He was responding directly to a question that mentioned Byrd by name, Newsweek reported.
Little is known publicly about Byrd, 53, even as DOJ and U.S. Capitol Police issued press releases announcing his exoneration. Many of his neighbors have hunkered down, refusing to answer their doors, since his identity has become known.