LOS ANGELES – The Los Angeles County Department of Medical Examiner-Coroner determined the cause of death for Keenan Darnell Anderson as effects of an enlarged heart and cocaine use. His death occurred hours after restraint by officers with the Los Angeles Police Department who used a Taser on him.  
Anderson, 31, and Black Lives Matter co-founder Patrisse Cullors were cousins. Anderson was a teacher from Washington, D.C., but visiting family in Los Angeles at the time of his death, Law Officer reported in January. Although the official cause of death is cardiomyopathy (enlarged heart) in combination with cocaine use, the medical examiner said the manner of death remained undetermined.   
The L.A. County Medical Examiner-Coroner's Office provided the following details in a press statement:
On January 3, law enforcement personnel responded to the scene of an auto accident where Mr. Anderson was a driver. Mr. Anderson was observed making erratic statements and appeared agitated. He soon fled on foot and was restrained by multiple officers who reportedly used wrist locks and hobbling techniques, and a CED. External analysis of the discharged CED revealed probes were deployed without skin impact and that trigger activations were discharged to Mr. Anderson's back via drive-stun application. 

Minutes after being subdued, Mr. Anderson was treated by responding fire department personnel, where he became unconscious with labored breathing.  

Mr. Anderson was transported to the hospital where he was later pronounced dead, hours after the encounter with law enforcement. Mr. Anderson's body was then transported to the Department's Forensic Science Center for examination.  

On January 11, an autopsy was completed on Mr. Anderson. Following the completion and receipt of relevant test results, the cause and manner of death were certified June 1. 

The medical examiner-coroner case number for Mr. Anderson is 2023-00126. To request the medical examiner's report, email [email protected].  

For additional information regarding cause and manner of death, please refer to the DMEC Fact Sheet.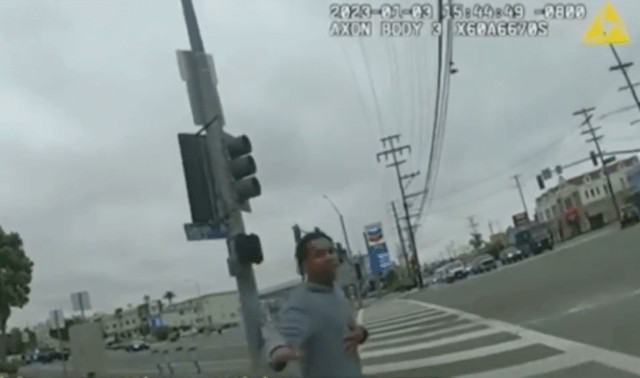 The incident began when motorists flagged down an officer regarding a car crash in Venice, California, about 3:35 p.m. on Jan. 3. The citizens said Anderson caused the collision and was running in the middle of the street exhibiting erratic behavior, according to LAPD Captain Kelly Muniz.
The officer contacted Anderson and asked him to sit down, while trying to get an understanding about what occurred. The officer also called for additional units to assist with a DUI related crash investigation.
The full bodycam video shows about seven minutes of the encounter prior to Anderson trying to leave the scene on foot. He is subsequently tased and taken into custody in the middle of traffic.
LAPD CRITICAL INCIDENT COMMUNITY BRIEFING
After he was subdued, Anderson was transported by ambulance to a local hospital. He died at the medical facility about four hours later.
Anderson's family filed a $50 million lawsuit against the City of Los Angeles. According to NPR, the family said they still plan to continue with the lawsuit despite the coroner's findings.