ARLINGTON, Texas – A student is dead, another is injured and a classmate is facing capital murder charges after gunfire erupted outside a high school in Arlington, Texas Monday morning. Authorities continue to investigate what motivated the accused juvenile gunman, according to reports.
Arlington police officers responded to reports of a shooting at 6:55 a.m. at Lamar High School. Upon arrival they found a male student with a gunshot wound outside the school as many students were arriving at the campus for their first day of class following spring break, the Arlington Police Department said.
The student was rushed in critical condition to a local hospital, where he later died of his injuries, according to officials. A female student was also grazed by gunfire. She was transported to a hospital by an adult who was nearby. Police said the girl suffered non-life-threatening injuries, NBC DFW reported.
The shooting occurred about about 40 minutes before classes were scheduled to start and about five minutes before two school resource officers with the Arlington Police Department arrived for the day. The name of the deceased victim has not yet been released.
Witnesses described the suspected shooter to officers. They located a male juvenile at the scene who matched the reports and took him into custody without incident. Police also recovered a weapon believed to have been used in the shooting, Fox News reported.
The juvenile suspect never entered the school, and ran from the campus immediately after opening fire, police said. Where the shooter obtained the gun as well as his motive remain part of the investigation.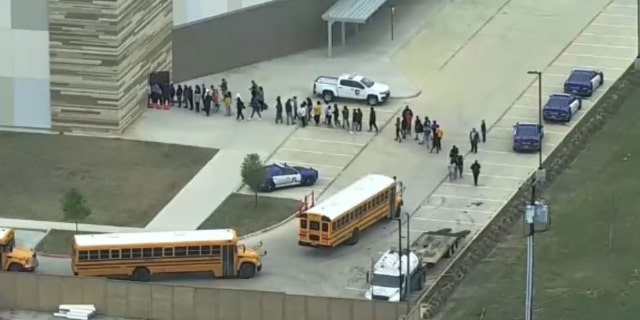 The school went into lockdown during the shooting. Police completed clearing the scene about 10:40 a.m., and students were reunited with their parents around 11 a.m.
"We need gun owners to be responsible and to properly secure their firearms, so they don't end up on our school campuses," Arlington Police Chief Al Jones said. "We will continue to work in lock step with our partners at Arlington ISD to ensure our schools are safe spaces where students can learn."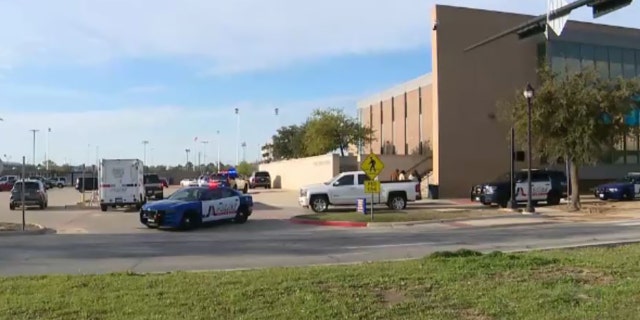 Jones said there is at least one video recording of the shooting and that the slain teen and injured girl were sitting outside, near the steps, waiting for the school to open when they were apparently targeted, NBC DFW reported. 
Lamar Principal Andrew Hagman said he was "very, very proud" of the students for how quickly they reacted and followed instructions from staff to get inside the building and away from danger.
"Unfathomable remorse. To think that a young life was lost in such a senseless fashion. It's incredible and it's incredible when it happens right at your doorstep," Hagman said. "I'm still numb, but thankful that more kids were not hurt and staff were not hurt. My heart goes out to the young man's family."
The school remained closed Tuesday and counselors will be made available to students when they return for classes on Wednesday, according to FOX4 Dallas-Forth Worth.
The identity of the suspect has not been made public since he is a minor, police said.
Meanwhile, he's been charged with one count of capital murder and additional charges are expected. He is being held at the Tarrant County Juvenile Detention Center.
"We prepare for incidents like this, but it is impossible to prepare for the emotion," said Arlington ISD Superintendent Dr. Marcelo Cavazos. "We are heartbroken."