NEW YORK — A man was shot in front of horrified children on a street in the Bronx on June 17. The gunfire miraculously missed a girl and her little brother as they were on a trip to buy some candy, Law Officer reported. Stunning surveillance footage shows the 24-year-old victim knock down the kids as he's attempting to flee the attack. Now, a Harlem gang member has been charged with attempted murder in the brazen, broad daylight shooting of a rival, police sources said Friday.
Police identified the suspect as Michael Lopez. He was taken into custody Friday morning in connection to the horrifying shooting caught-on-video last week. According to investigators, Lopez, 27, opened fire on a 24-year-old man, barely missing Christian, 5, and his sister Mia, 13, at about 7:00 p.m., police said. Thankfully, neither child was shot by the gunman, New York Post reported.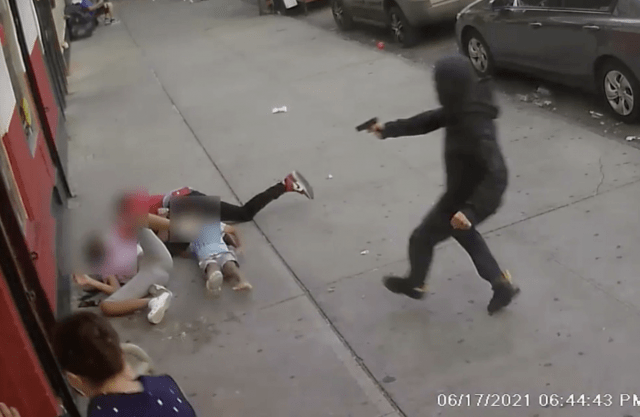 Law enforcement sources say Lopez is a member of the "Make It Happen Boyz" street gang. Moreover, the gangbanger has tallied five prior arrests, which include robbery, attempted murder, conspiracy, criminal possession of a weapon and unlawful disclosure of intimate images, the Post reported.
As a result of the Bronx sidewalk shooting, Lopez faces charges of attempted murder, assault, criminal possession of a weapon, criminal use of firearm, reckless endangerment and attempted reckless endangerment, police said. He is accused of shooting the victim in the back and legs before fleeing on a scooter.
The victim is expected to recover from his injuries, police said.
The youngsters were in front of their apartment on the way to a bodega to buy some candy when they were caught in a hail of gunfire. The heart-stopping crime was witnessed by their father. There were about 12 rounds fired by the gunman who was wearing a black mask as he repeatedly aimed for the victim falling to the ground, knocking over the children while trying to avoid being hit, Law Officer reported
Parents of the siblings told reporters on Monday that their children were left traumatized as they called for an end to the city's ruthless violence.
"We're traumatized," the father, Christian said. "My daughter can't move her arm. The boy has bruises. They have trauma. They can't sleep. They are nervous."
"Please stop this wave of delinquency on our streets," he said. "It's a miracle my kids are alive. Thank God, but it could happen to any other child or parent."
The traumatized family and the victim of the shooting are unknown to each other.