Police on Tuesday were sent to break up the funeral of a New York City Rabbi who died from COVID-19 according to a spokesperson for Mayor Bill de Blasio.
Her post included a retweet of photos that appeared to show hundreds of people, dressed in black, packing an intersection on Rutledge Street in Brooklyn's Williamsburg neighborhood.
"The Mayor is on the scene and the NYPD is breaking this up," she wrote.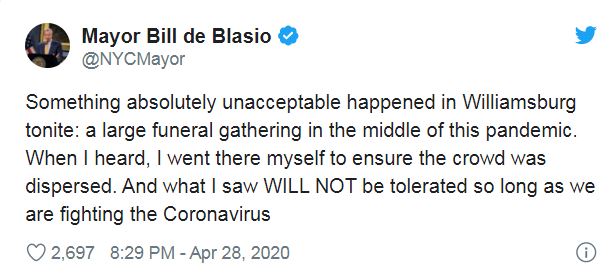 "My message to the Jewish community, and all communities, is this simple: the time for warnings has passed," de Blasio tweeted. "I have instructed the NYPD to proceed immediately to summons or even arrest those who gather in large groups. This is about stopping this disease and saving lives. Period."
The Mayor's  presence at the funeral and demands for NYPD to intervene drew outrage by some including talk show host Ben Shapiro who stated, "I can't imagine de Blasio saying this about any other community. It's pretty amazing. And for the record, MANY of the leaders of the Jewish community have taken strong stands on social distancing."