Share and speak up for justice, law & order...
New York — Chaos erupted Saturday when a man with a knife started waving a Taser around after a fight broke out in crowded Washington Square Park. People went running for cover, and one woman was trampled as people were trying to escape. Police arrested Jason McDermott, 42, for menacing, reckless endangerment and criminal possession of a weapon according to the New York Post.
Residents of New York City's Greenwich Village have long demanded that law enforcement stop the nightly takeover of Washington Square Park, where people frequently meet to sell drugs and have sex. On Wednesday, hundreds of residents met with NYPD asking them to restore order in the area including the enforcement nightly curfew.
NYPD Chief Rodney Harrison told the attendees that the department is "ready to protect you" and that NYPD would "do whatever it takes to make sure you feel more comfortable in the neighborhood you live inResidents told police the park was once a quiet area, but now there's mayhem every night with nudity on display, crack being smoked, and children witnessing "people shooting up."
William Abramson, of Buchbinder & Warren Realty Group, the landlord for hundreds of residential and retail properties near the park, said that the "administration has failed not only the taxpayers and local residents, it's also failed the drug addicted and the mentally ill."
Not everyone agreed with the problem. Anti-police demonstrators gathered outside the resident meeting with NYPD and 25 year-old Desmond Marrero, told the crowd that "the park just needs some understanding."
"I see gangstas and white people, the LGBT community and people dressed in suits all coming together and celebrating life," Marrero said.
However, it is unclear how a man armed with a knife—and a Taser weapon disguised as a flashlight—fits into a "celebration of life" at the park. The NYPD posted a photo of the Taser weapon built into what appears to be a tactical-style flashlight that police officers carry.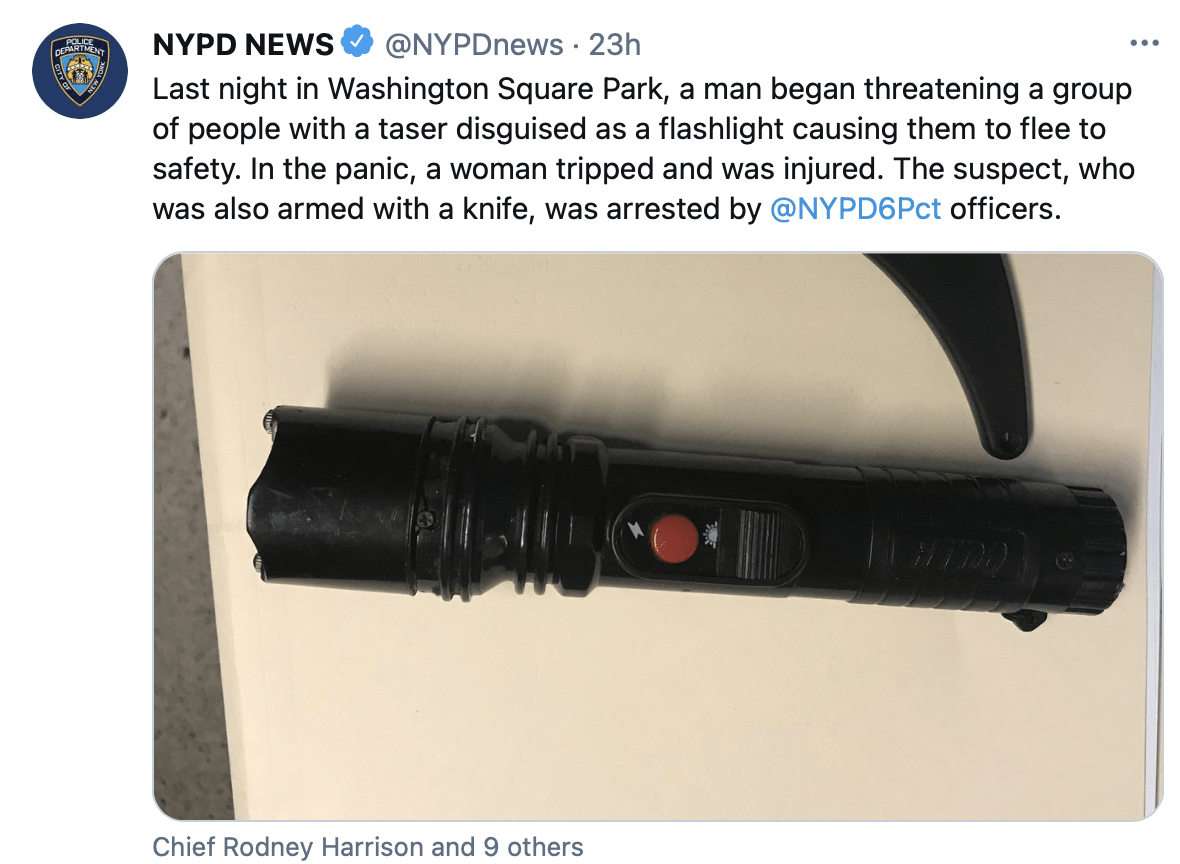 Share and speak up for justice, law & order...