LOS ANGELES — After losing more than 440 employees by the end of April, Sheriff Alex Villanueva of the Los Angeles Sheriff's Department is asking county executives to allow his agency to hire hundreds more deputies to address critical issues.
The number of LASD employees lost in the first four months of 2021 exceeds half of the total number of personnel who left during each year in recent history, Fox News reported.
LASD lost 444 employees due to resignation or retirement as of April 30. Of those, 308 were sworn deputies, according to statistics recently provided to Fox in response to a public records request. That's 59 employees more than half of the 770 total personnel who left LASD in all of 2020, the department said Tuesday.
As of February, LASD employed about 18,000 total individuals, 9,800 of whom were sworn personnel, the department said in a press release earlier this year. The agency has jurisdiction over more than 4,000 square miles, which is home to 10 million people.
Sheriff Villanueva said LASD needs at least 500 more sworn members to address what he called the three "existential threats" – the rise in violent crime, the homeless crisis and the lack of control within the cannabis industry.
Many of the new positions would go in part toward the Homeless Outreach Service Team, which is currently staffed on a temporary basis by deputies from other units within the organization.
In addition to a rise in crime in general, of greatest concern is the spike in homicides. Los Angeles County murders have increased by 95.24% so far this year compared to the same time in 2020, Fox reported.
Moreover, violent crime was already up 36% at the end of 2020, Villanueva emphasized.
"All huge numbers, all very, very troublesome," he continued. As he started his next thought, he noted: "We have less cops on the street, more crooks, less consequences – you know, what could go wrong with that combination, right?"
Villanueva has had a contentious relationship with local lawmakers who first voted last year to defund law enforcement by $145 million. LASD lost 1,130 positions. He said the Board of Supervisors are not finished as they have plans to slash another $143 million, which includes 77 deputy positions, according to Fox.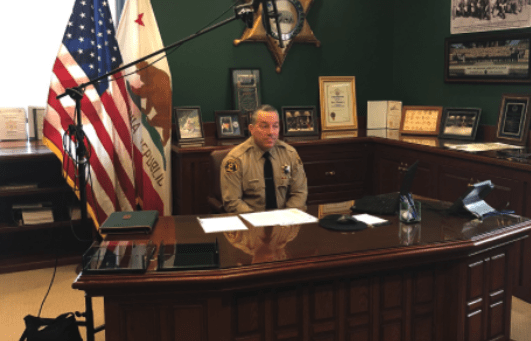 "We have been defunded, degraded. Our capacity to fight crime, investigate crime and hold people accountable when they commit a crime – all that is going downhill. And not to the benefit of the residents of L.A. County," Villanueva said. "As you can judge by the numbers, they are going in the wrong direction."
The sheriff is seeking 10% of the county's overall budget, or approximately $3.6 billion, to go toward public safety and the Sheriff's Department. He views it as an investment in the lives of L.A. County residents.
"Yes, people's lives are at stake, your budget priorities should reflect that," he said.