Given all the grief we have seen with so-called prosecutors handing out antithetical liberties to law violators who victimize innocents, it is refreshing and reassuring to know prosecutors in law-and-order jurisdictions stand with victims, partner with law enforcement, and prosecute cases built by cops.
Recently, my county's sheriff publicly praised our Judicial Circuit Court's newly seated state attorney, Susan S. Lopez who now leads roughly 300 prosecutors handling almost 50,000 criminal cases per year.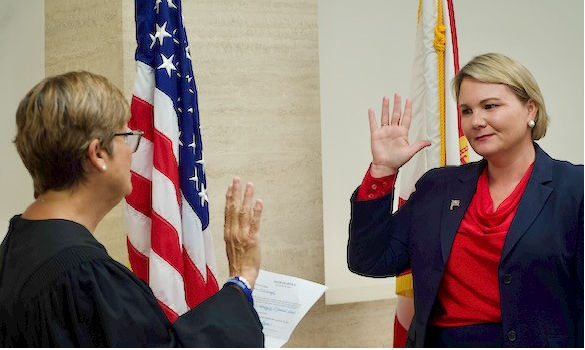 (Photo courtesy of Office of the State Attorney, 13th Judicial Circuit.)
In August 2022, Florida Governor Ron DeSantis (R) appointed Hillsborough County Judge Susan Lopez to serve as Acting State Attorney of the 13th Judicial Circuit in Tampa. Here is why…
Pro-police Governor Ron DeSantis ousted the former prosecutor who avidly used his nolle prosequi pen, enhancing the day (or life) of defendants while flushing gobs of great police work down the drain along with taxpayer dollars and the trust of many.
"Due to neglect of duty" was the basis published in the Sunshine State governor's press release and Executive Order, holding accountable an elected state attorney, a Democrat.
Prosecutors that prosecute shouldn't necessarily be a ritual to herald but such are the zany times in which we are existing. Credit where credit is due…
"Sheriff Chad Chronister and team HCSO congratulate Hillsborough County State Attorney Suzy Lopez on one year in office. Law enforcement partners, community leaders, and victim advocates gathered to celebrate her efforts toward making our community the safest place to live."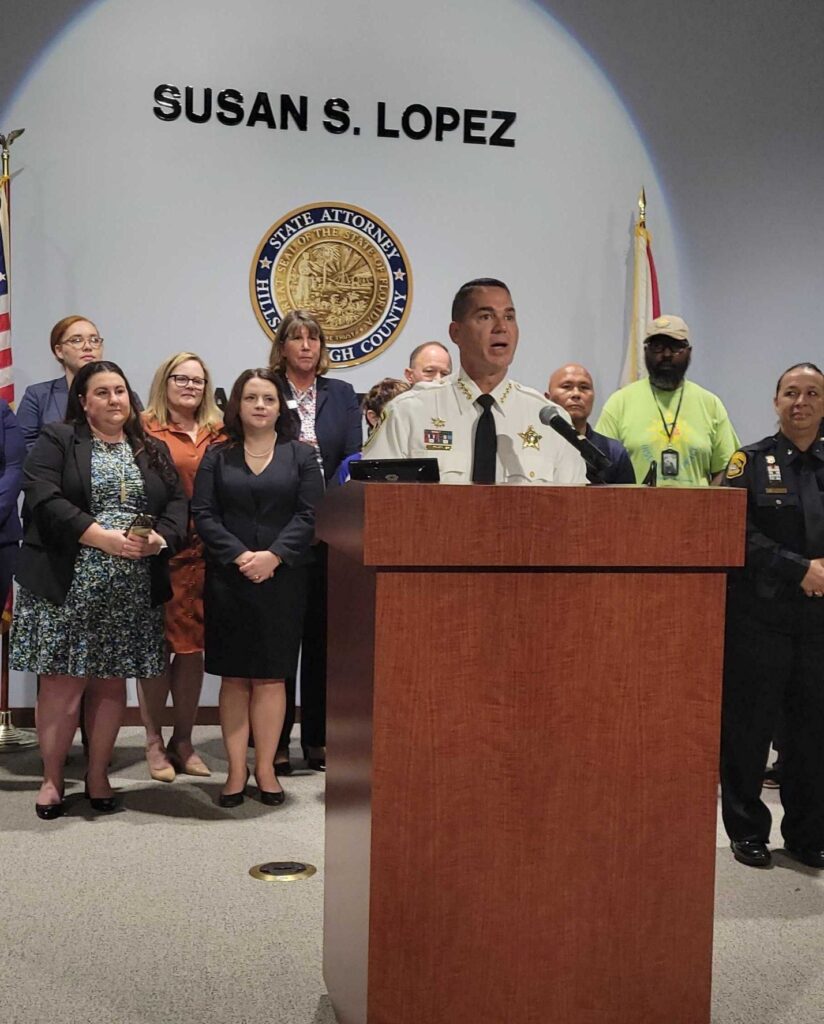 (Photo courtesy of the Hillsborough County Sheriff's Office.)
Besides having served as a judge, this is not State Attorney Lopez's first role on the prosecutorial side. Per the governor's announcement, "Susan Lopez was appointed by Governor DeSantis to serve as a judge on the Hillsborough County Court in 2021. She previously served as Assistant State Attorney of the 13th Judicial Circuit for more than 15 years and as Staff Attorney of the Second District Court of Appeal."
Via Lopez's bio, front and center was the following music to victims' and cop's ears. For criminals, not so much:
"Lopez believes that building and maintaining strong relationships with local law enforcement helps to create a safer community for all. She has implemented strategies and policies to prevent gun violence, with a focus on career offenders. In the pursuit of justice, Lopez believes that crime victim advocacy should always remain [at] the forefront. She personally meets with each homicide victim's family to ensure they have the agency's full support throughout the entire legal process."
Sounds like she is the equivalent of a cop's cop, only in the realm of a prosecutor's prosecutor.
"She's tireless. She's passionate. She's compassionate. She understands the difference between an addict that needs help and treatment, someone who deserves a second chance, and someone who is terrorizing and victimizing our neighborhoods," said Sheriff Chronister. "Madame State Attorney, this community is stronger and safer because of you, and I look forward to working with you for many years to come as we build upon this first year's success to make sure Hillsborough County remains the safest county in the state of Florida."
Heck, even the neighboring sheriff in Pasco County, whose elected state attorney has domain over his deputies' cases, offered accolades:
"I applaud the work State Attorney Lopez has done to strengthen the tie between her office and law enforcement. Holding those who harm others accountable for their actions ensures justice for victims and ensures that we as law enforcement officers are able to keep our communities safe. This is important for us in Pasco [County], considering our shared borders and communities," Pasco County Sheriff Chris Nocco stated.
How's that for a shot-in-the-arm statement from law enforcement serving its citizenry to the fullest?
It says a lot when a top cop in a heavily populated county —Hillsborough County is huge, therefore, the potential for bad apples roaming around and creating havoc— publicly praises the other top cop (prosecutor) for working together against the criminal tides.
It is not always the case, though…
During my years as a policeman in this county, we had a long-tenured prosecutor who was not always a favorite person among the thousands of cops submitting CRAs (criminal arrest affidavits) to his office, naturally expecting prosecution.
Increasingly, he seemed to nollo pros many cases…without even offering the courtesy of an official notice explaining why. Imagine yourself, as a law enforcement officer working tirelessly, putting your life on the line, apprehending increasingly dangerous evildoers…and having all your work ghosted.
From veteran LEOs, I constantly heard the rhetorical gong: "There's politics involved." Nothing new there, just the same old stale and counterproductive underpinnings throwing wrenches in the criminal justice system machine. Ask any LEO about policing and the detrimental impacts posed by politics; don't inquire if you are late for an appointment or on a limited lunch break.
Fast forward several decades and we see the politics (liberal ideologies) involved with now-former State Attorney Andrew Warren being removed by Gov. DeSantis, all spelled out in the brief video posted below.
Tides turn, though.
"We have successfully shifted back to basics; evaluating each unique case based on the facts, not political convenience.," said State Attorney Lopez.
Incidentally, some citizens may not be aware that prosecutors are considered law enforcers, the swearing-in ceremonies solidified by the issuance of official badges kept in billfolds. Trivial but true.
I remember, one year ago, when Gov. DeSantis stood at a podium, flanked by a batch of Tampa Bay-area law enforcement executives, announcing his "suspension" of then-State Attorney Andrew Warren who presided over the criminal caseload mounted by police officers, deputies, state troopers, and FDLE agents whose work may have met the dustbin.
How about that gleeful-sounding outburst after Gov. DeSantis announced his suspension of Andrew Warren?
Prosecutors are granted plenty of power and latitude, much like LEOs have discretionary means. But when too many cases are dismissed, freeing defendants back to the public domain, there's a problem…a huge one.
Not anymore. Not in Tampa Bay nowadays, with a pro-prosecuting state attorney that exudes her oath cited at her swearing-in ceremony, standing up for victims of crime, supported by the law enforcement officers out there doing the dirty work of nabbing evildoers.
Recently retired Tampa Police Chief Brian Duggan chimed in, saying, "State Attorney Lopez has restored credibility and transparency back to the State Attorney's Office. At her core, she is a prosecutor, not a politician. The people of Hillsborough County can sleep better at night knowing she's on the job."
We close with a few among many initiatives State Attorney Lopez has launched victoriously, based on her personal/professional constitution of giving back by pillaring those in the community. One program is called "Shielding Our Teens," a partnership with the Tampa Police Department, mentoring high-schoolers on summer break in clothing drives dedicated to domestic violence victims, with youngsters volunteering while being guided by city cops.
Another program with a nice shine to it is referred to as "Bridging the Badge" in which prosecutors conduct ride-alongs with Tampa Bay law enforcement officers and spend time in "shadow opportunities to better collaborate on criminal cases."
You can peruse more initiatives and applause denoting why this brand of prosecutor is wholly embraced by law enforcement agencies in a jurisdiction having zero George Soros mitts in it.
---
This article originally appeared at the National Police Association and was reprinted with permission.