PALMDALE, Calif. – A Southern California man has been arrested in Palmdale for the shooting death of Deputy Ryan Clinkunbroomer with the Los Angeles County Sheriff's Department, officials announced Monday.
Investigators previously said Deputy Clinkunbroomer, 30, was ambushed and murdered for no apparent reason. Los Angeles County Sheriff Robert Luna described the suspect as a "coward." Authorities identified the gunman on Monday as 29-year-old Kevin Salazar. He was taken into custody about 5 a.m., after a standoff lasting several hours, KTLA reported.
"We are extremely confident we have the right person in custody," Sheriff Luna said during a Monday morning press conference.
Deputy Clinkunbroomer was discovered suffering from gunshot wounds in his patrol unit Saturday about 6 p.m. near the intersection of Sierra Highway and Avenue Q in Palmdale.
Although he was rushed to the hospital, he did not survive as he was pronounced dead at the Antelope Valley Medical Center.
According to authorities, important evidence in the homicide investigation is video that shows a vehicle pulling up to Deputy Clinkunbroomer's patrol unit just prior to the shooting. Images of the suspect vehicle were quickly circulated.
Surveillance images released by LASD show a suspect vehicle in the fatal ambush shooting of a deputy. (LASD)
A $250,000 reward was offered for the arrest and conviction of the gunman responsible for the deputy's homicide.
Deputy Clinkunbroomer was an eight-year law enforcement veteran and had been working out of the Palmdale station since 2018. He served the last year-and-a-half as a field training officer (FTO). Both his father and grandfather worked for the department, Sheriff Luna said.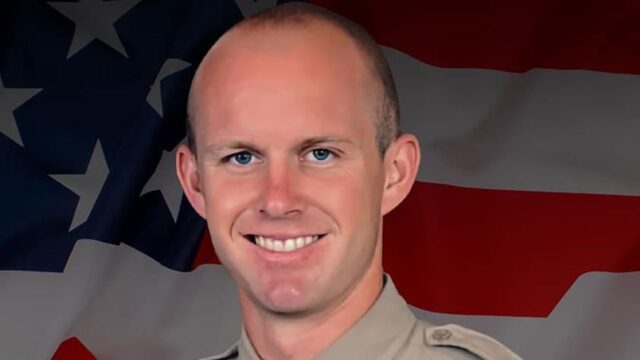 Moreover, Deputy Clinkunbroomer was recently engaged to be married, having proposed to his fiancée just four days before his tragic death, KTLA reported.
"He embodied the values of bravery, selflessness and an absolute commitment to justice," Sheriff Luna said during a Saturday night news conference. "Our deputy was a devoted family member and a cherished member of our community who was cowardly shot while working tirelessly to serve our community. Our hearts absolutely go out to his family."
During a Sunday night vigil held at the sheriff's station, about 1,000 mourners showed up in support.
On Monday, bumper stickers with the fallen deputy's image were widely circulated. The message said, "The bravest often fall by the hands of cowards. In loving memory of Deputy Ryan Clinkunbroomer"